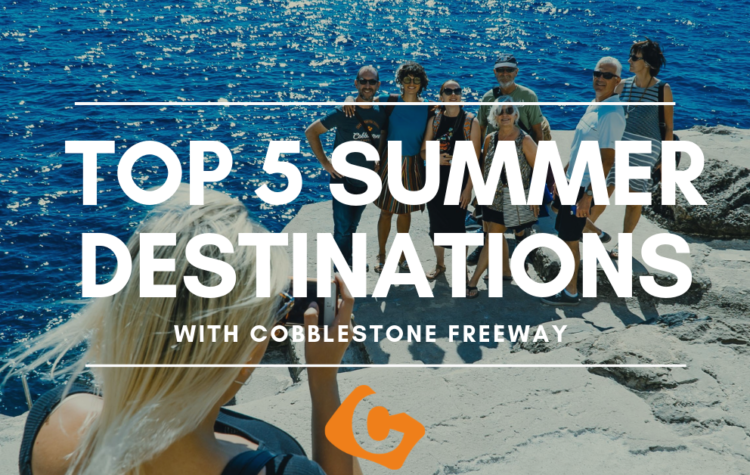 The sun is shining, and summer is on its way!
Now is the best time to start thinking about that summer getaway, so we have some fabulous Cobblestone summer destinations for you!
Here are our top 5 for 2019:

5. CROATIA
Not your average summer holiday
Croatia is a far cry from your usual sun, sea and sand destination. Although it has all three, this coastal paradise combines picturesque, ragged coastlines along the azure Adriatic Sea, with ancient-walled towns with eons of history. Chosen as a film set for many a blockbuster (including Game of Thrones), you'll soon see why this fairy-tale country with a complicated past draws in travellers from far and wide – even Beyonce loves this vacation spot! Explore the fascinating history and culture of this off-the-beaten-track travel destination on one of our Croatia Tours.
Must sees:
– Pearl of the Adriatic Sea – Dubrovnik
– Zadar Sea Organ
– Plitvice National Park
– Ancient city of Stone, Trogir
– Split – the soul of Dalmatia
– Day trips to Slovenia and Bosnia
Must taste: Rakija- is a fruit brandy that comes in dozens of varieties in the Balkans! Pair it with some garlicky seafood dishes, plucked straight from the Adriatic that morning!
---

4.HUNGARY
On the crossroads of Europe
Hungary may not be the first place to come to mind when you think about your next summer holiday, but this borderland European country has a wealth of history and beauty – and the lack of a coastline is made up for by a wealth of luscious mountains and glittering lakes.
Once part of a great empire, Hungary still very much has a regal feel about it, and nowhere shows this better than the capital – beautiful Budapest.
And beyond Budapest – explore more of Hungary's historic cities, travel through untouched mountain scenery, past serene lakes; relax in healing thermal waters, and eat good local food.
Must sees:
– Cruise on the Danube river in Budapest
– Sample Budapest's Thermal Baths
– Swim in Balton Lake
– Traditional Hungarian Csarda
Must taste: Langos. This delicious fried dough can be topped with anything you like – savory or sweet!
Our Hungary Tours:
---

3.UKRAINE
An undiscovered treasure.
Big, diverse and largely undiscovered, Ukraine is a hidden gem – a nation rich in colourful traditions, warmhearted people and off-the-map experiences.
Ukraine has recently entered a new age, and is now one of the hottest new travel destinations in Europe, finding its path in the modern day world, while celebrating its age old traditions and customs. So much of Ukraine's history happened under the rule of other countries – but now, is its chance to tell its own story.
Summer in Ukraine is full of high temperatures and high energy. You can spend the summer days sipping cold drinks on patios in the main city squares, or up in the Carpathians, swimming in rivers and breathing the fresh mountain air. Cool down exploring shaded cobblestoned streets in quaint cities, or head down to the south coast to Odesa, to relax on the sandy beaches or explore local wineries.
Must sees:
-Explore the cobblestoned streets of Lviv – whose centre is a UNESCO World Heritage Site
-Experience a traditional Hutsul Wedding in the Carpathian Mountains
-Wine tasting at Ukraine's best Winery in Shabo, near Odesa
-Visit an authentic Ukrainian village – Tulova
-Visit the World-renowned Lviv Opera House
Must taste: Varenyky! Here you can get every flavour of varenyky under the sun, be sure to give a few a try with some "smetana", or sour cream.
Our Ukraine Tours:
---

2. GEORGIA
An Eastern delight
This up-and-coming tourist nation straddles Asia and Europe, and is unlike anywhere you'll ever have been before. This rather isolated culture has kept its fascinating traditions alive over many centuries – when traveling through its old churches, enchanted mountains and colourful seaside towns, you will feel as though you are traveling through time!
Situated on the coast of the Black Sea, it's a perfect place to while the days away soaking up the beautiful mountain scenery over some local Georgian wine. Immerse yourself in some of their ancient music, art, food traditions and architecture, well off the beaten track.
Must sees:
-Tbilisi – the dynamic capital of Georgia
-Batumi on the beautiful Black Sea Coast
-Wine tasting at Georgia's best Wineries in Kakheti
-Enjoy traditional Georgian Polyphony singing
-Ushguli – one of the highest villages in Europe
-Mestia, up in the Caucasus mountains
Must taste: Khachapuri. These delicious cheese-filled breads are made for tear-and-share style of eating – but you might not want to share!
Our Georgia Tours:
---

1.Ireland
A small island with a big heart
This Emerald Isle, with its jagged cliffs and coastlines, and glistening waterfalls, is a magical, mystical country, right off a postcard. This is a country where ancient and modern combine, steeped in history and soaked in traditions, that its people can't wait to share with you over a pint at the local pub!
This might not be top of your list for a summer holiday – but its at the top of ours! Spend the summer amongst rolling green hills, ride in a traditional horse & trap and immerse yourself in a country that will welcome you with open arms!
Must sees:
-Titanic museum of Belfast
-Cliffs of Moher
-Kiss the Blarney Stone
-Try your hand at peat cutting
-Culinary tour of Dublin
-Ride a traditional horse & trap
-Watch an Irish Dance & Music Show
Must taste: Guinness! What's a trip to Ireland without a taste of this traditional beverage?! Visit the Guinness Brewery to find out how its made!
Our Ireland Tours:
---