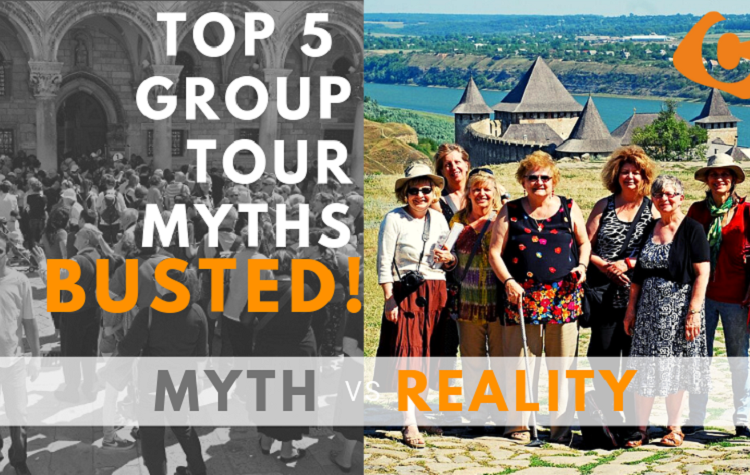 Group tours are the WORST right?! People – ugh, crowds – UGH, bland food – double ugh!
Well actually, it's not as bad as it sounds. Here are some Group Tour Myths, BUSTED by Cobblestone Freeway!
Myth: Group tours are crowded, and you get herded around like cattle! 
Reality: Cobblestone Freeway caps all tours at 16 people.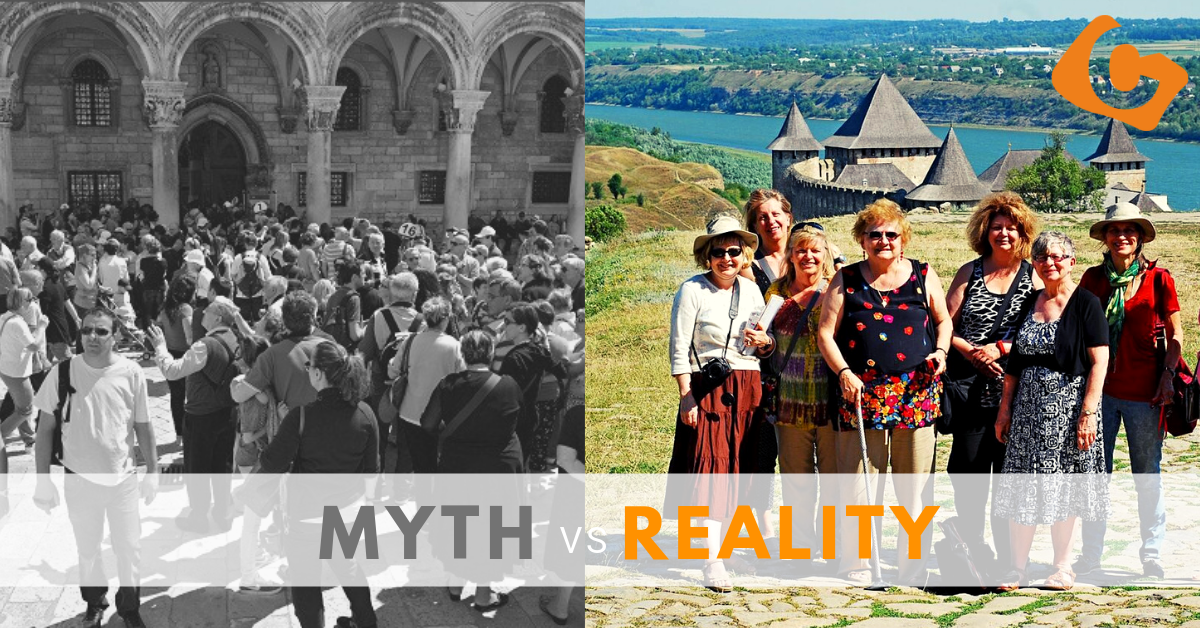 Have a look at some of the other tour operators, you'll find that our tours are some of the smallest in the travel industry. Why do we do it? Because we are travellers ourselves! And we love the personal experience we get with our guides and tour hosts, the intimate feeling as we stroll through an old castle, and the small-group size is perfect for easily moving from place to place without feeling like cattle. The only way to achieve this is with small group sizes.
---
Myth: I'll be cooped up on a big bus, right?
Reality: No actually! You'll be chilling in an air-conditioned, modern, comfortable, Mercedes Sprinter.

Their slender size makes them easy to hop on and off from but still roomy enough for a few-hour ride. And because our transport is much smaller than big coaches, we're easily able to get to interesting, off-the-beaten-path places.
On our tours, once you arrive to the airport, we take care of all your transportation!
---
Myth: I'll eat boring, 'tourist food' in a busy tourist restaurant. Yuk! 
Reality: You'll get plenty of authentic, traditional cuisine in a variety of unique locations! 

Cobblestone Freeway Tours have long-standing relationships with cooks and local restaurants. We guarantee it, or dinner is on us. Actually, dinners are already on us! We include two meals per day on each and every one of our tours.
---
Myth: I won't like the people I travel with.
Reality: Actually, you already have something (something big!) in common with each person on the tour! 

After nearly a decade of crafting group tours, we're still surprised by how our travellers arrive on Day 1 as strangers and become a big family by the end of the trip! They often stay lifelong friends!
---
Myth: I can plan my own trip.
Reality: Sure, knock yourself out, but you certainly won't get to go to many of the places we take our travellers!

We really get off the beaten path and this is a priority of us. In Ukraine: we climb into a village in the Carpathian Mountains, cook a meal with a family, and drink the night away. In Ireland: we cut peat out of the earth like the Irish have done for centuries before warming up with a local whiskey. In Bosnia: we make our way to a small restaurant that floats on a tiny river for a meal that is steeped in history and bursting with unique, local flavour!
So, what are you waiting for? Choose your awesome Group Tour with Cobblestone Freeway today: