Itinerary
Day
1-3
We will start our tour in beautiful Lviv in Western Ukraine! This historic city is full of quaint charm, cobblestoned streets and classical architecture - you won't fail to be charmed by this 'city of love'! Explore the beautiful Easter Markets, wander the historic city centre and feel the excitement as the city prepares itself for the biggest holiday of the year!
Day
4-7
Travelling up into the Carpathian Mountains is a sight to behold... Sweeping green forests, quaint wooden houses, ancient Hutsul churches and never-ending hills –it's hard not to feel at-one with nature when you breathe in the fresh mountain air. On the way you'll visit the World's Only Pysanka (Easter Egg) Museum! What better museum to visit at Easter?! You'll get to see Ukrainian Easter as it is celebrated by locals in small villages, with traditions passed down through generations. Meet with locals in a small mountain village, and begin the preparations for Easter by gathering the symbolic ingredients for your Easter basket, from fresh home grown produce from local Markets – don't worry, you'll get chance to shop for souvenirs! On Easter Sunday you'll attend a traditional mass in a church in a Carpathian village, partake in ancient Ukrainian rituals and dances, and sample delicious dishes prepared just for these Easter festivities.
Day
8
Join locals in the authentic Ukrainian village of Tulova. Here the locals are keen to welcome you into their village, to show you around, to experience their culture and day to day life. Hear about their local Easter traditions, learn Easter songs and dances from the villagers, and party Tulova style – with homemade food (and vodka!) Continue to Chernivtsi in the evening.
Day
9-11
Chernivtsi – the Capital of Bukovyna – is a cosmopolitan and multicultural city considered one of Ukraine's most important educational and architectural sites. The spectacular University is an ancient, magical collection of buildings, which will take you back in time as you step through its doors... Speaking of time travel, you'll get to see how local princes and rulers lived at the fortress of Kamianets Podilsky. Explore this medieval city, founded on an island, and look out over the river from its ancient tower walls and turrets.
Day
12-15
Round off our Easter Journey in one of the most ancient cities in Eastern Europe – Kyiv. The capital of Ukraine, and the former capital of the Kyivan Rus, this beautiful and historic city has played a key part in the past, present and future of this country. Explore its broad streets, visit open air museums, talk with the locals, and get a feel for this unique, cosmopolitan city at the heart of Ukraine. See how they do Easter in the Capital, and visit their Easter Markets and golden domed churches, while you shop for those last few souvenirs, before one last Ukrainian Zabava to end your trip with a bang!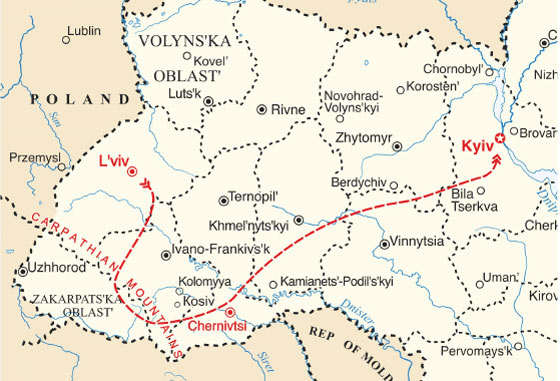 Highlights
Easter Markets: shop on the seasonal markets in Lviv.
Cobblestone streets: explore the quaint and beautiful city of Lviv.
Easter Eggs: visit the World's Only Pysanka/ Easter Egg Museum!
Ancient Customs: learn how to put together a traditional Easter Basket.
Rich Traditions: attend mass and celebrate Easter Sunday in a remote Carpathian Village.
Hutsul home: attend a traditional Easter lunch in the home of a Hutsul Family.
Village visit: meet locals and dance Haivky in the authentic Ukrainian village of Tulova.
Magical Buildings: marvel at the stunning University of Chernivtsi, a UNESCO World Heritage Site.
Time Travel: admire the Kamyanets-Podilskyi and Khotyn fortresses.
Golden domes: explore the beautiful capital of Ukraine – Kyiv.
Cobblestone Exclusives: attend private concerts, cultural events, and workshops exclusively for Cobblestone freeway travellers.

Optional:
Extend your trip! You can support the local community, by joining our Bukovets Work Trip. This gives supporters of our Cobblestone Freeway Foundation the chance to actively participate in the aid of the Bukovets school in the Carpathian Mountains. Contact Us for details.