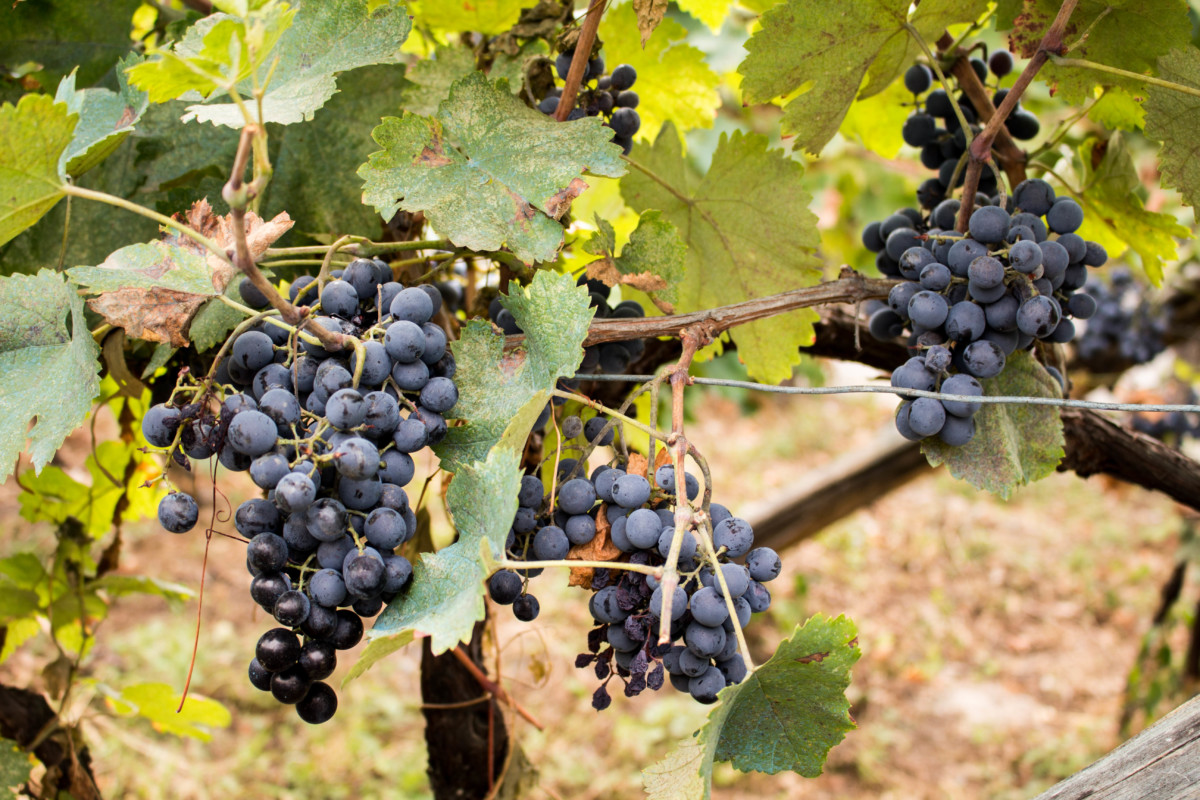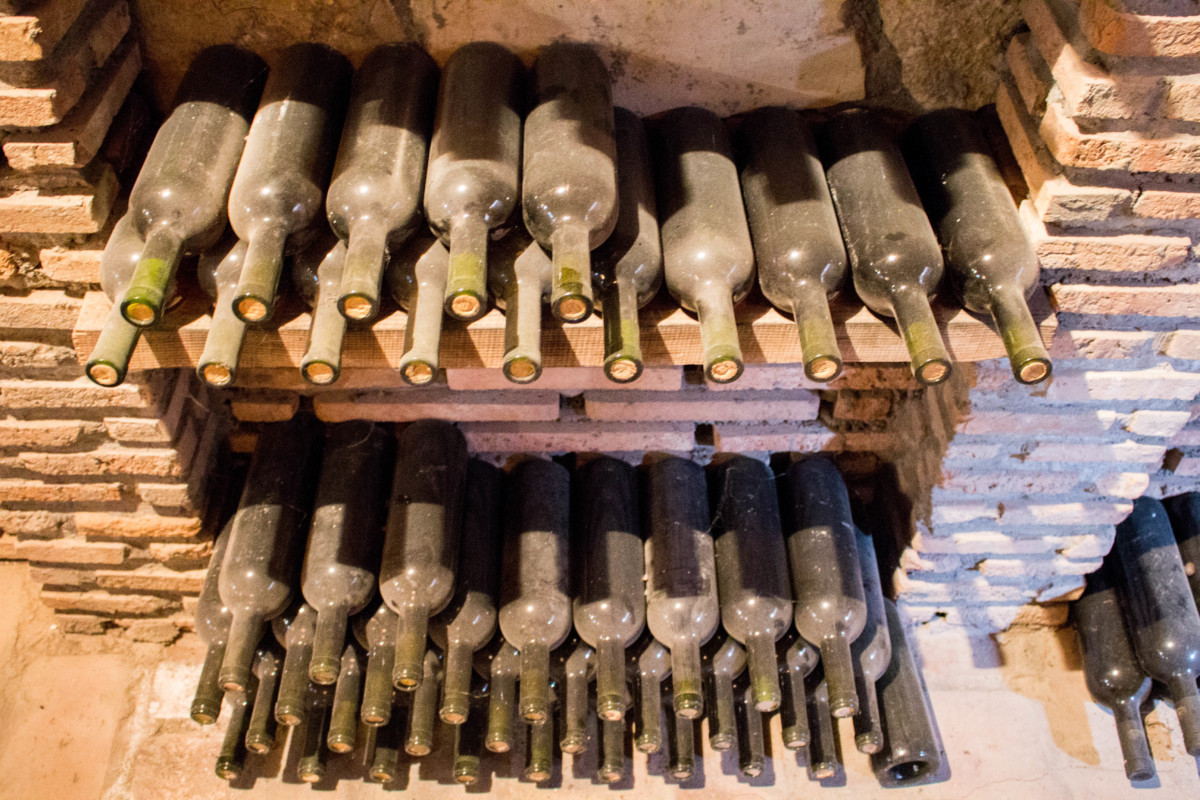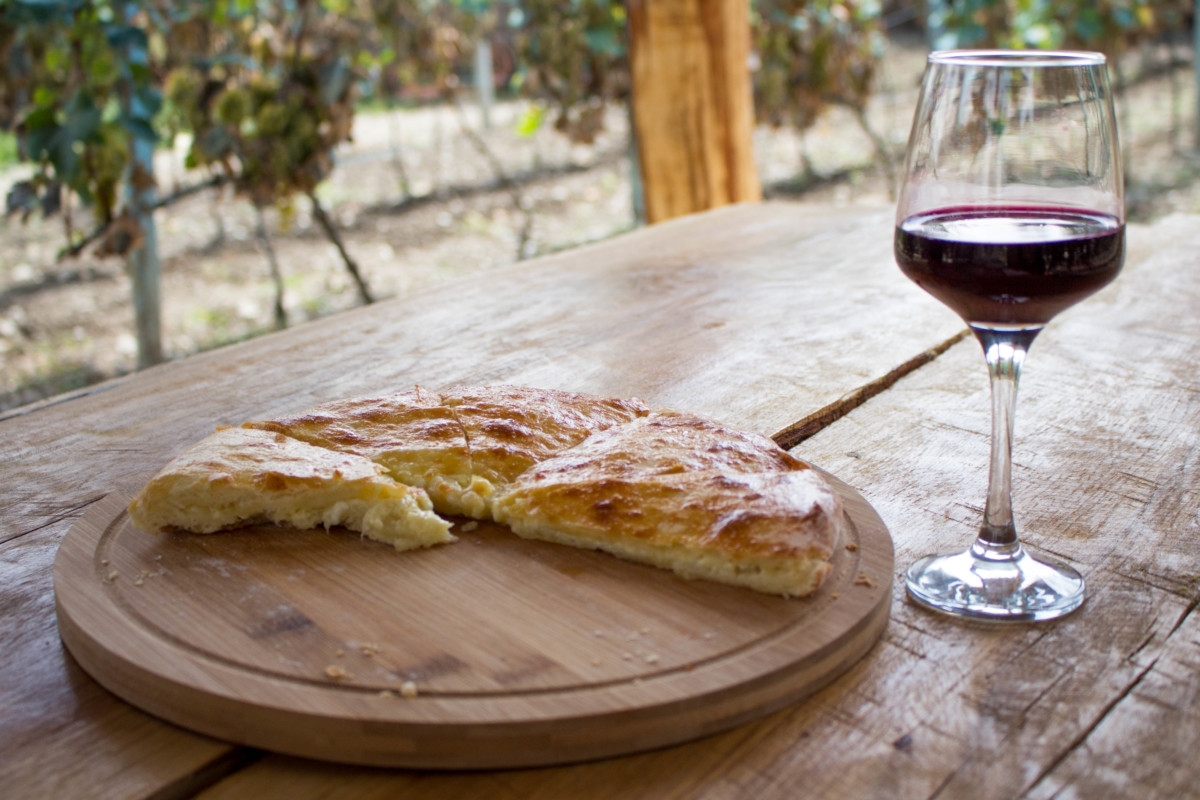 Did you know the oldest ever wine culture goes back over 8000 years?
And it all started in a place you'd never guess.
Georgia

.

We went to Georgia on our first ever Treasures of Georgia tour this Fall, to learn more about Georgian wine, and of course to taste it!
We started our journey in Tbilisi, the new capital of Georgia.  A Statue of Mother Georgia– "Kartlis Deda" – is erected on a hill overlooking the old town of Tbilisi.  She symbolizes the Georgian national character: in her left hand she holds a bowl of wine to greet those who come to Georgia as friends, and in her right hand – a sword for those who come as enemies.  Luckily we were thought of as friends – as we were greeted with wine – and a lot of it!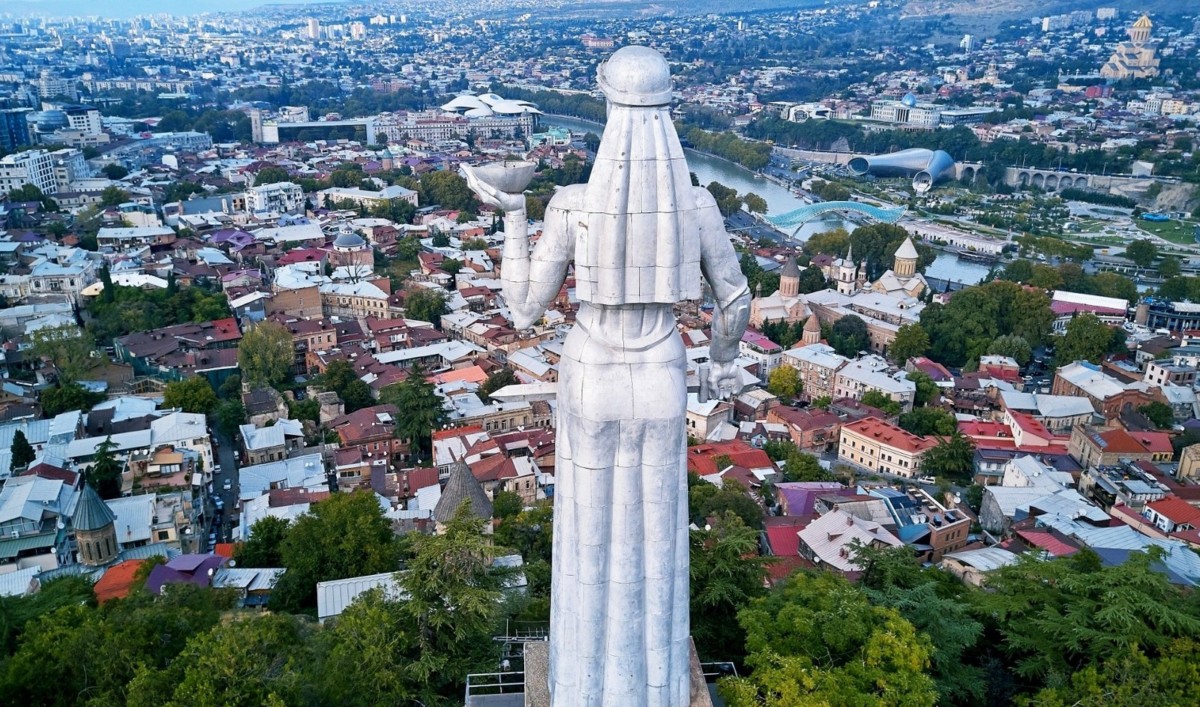 Before we even set off for Kaketi, the most famous wine region of Georgia, our driver, Gogita, prepared us for the journey well. He opened his trunk to show us a whole bunch of his own homemade wine and "chacha" – grape liqueur – for us to taste, before we hit the road.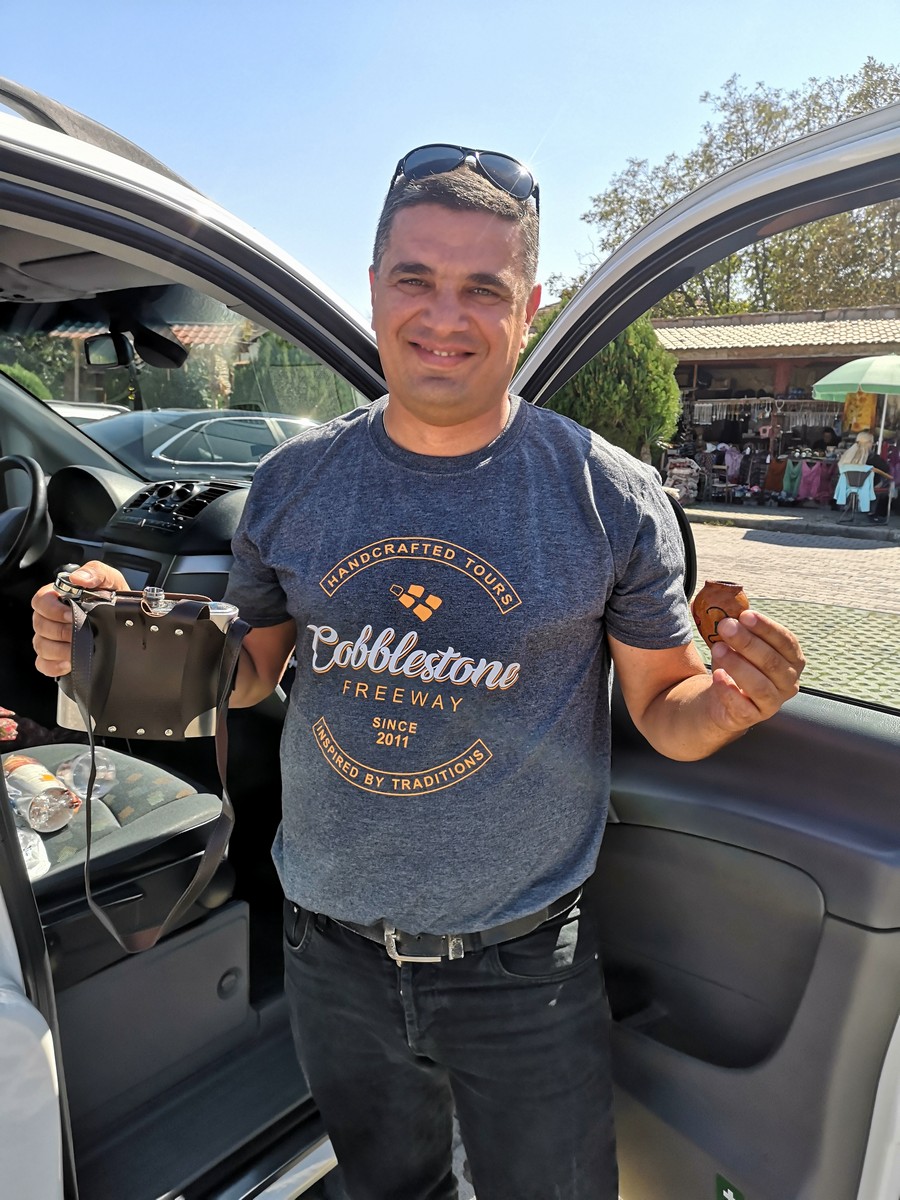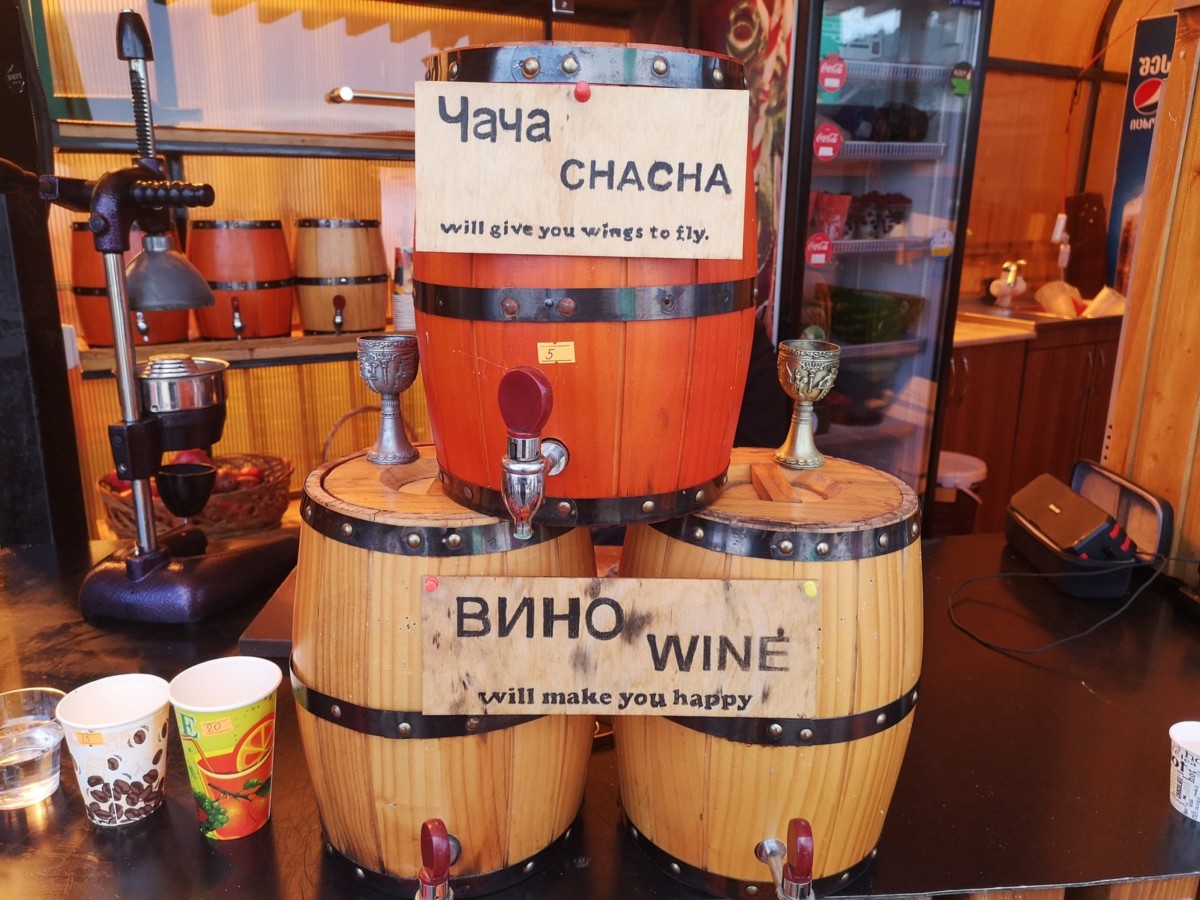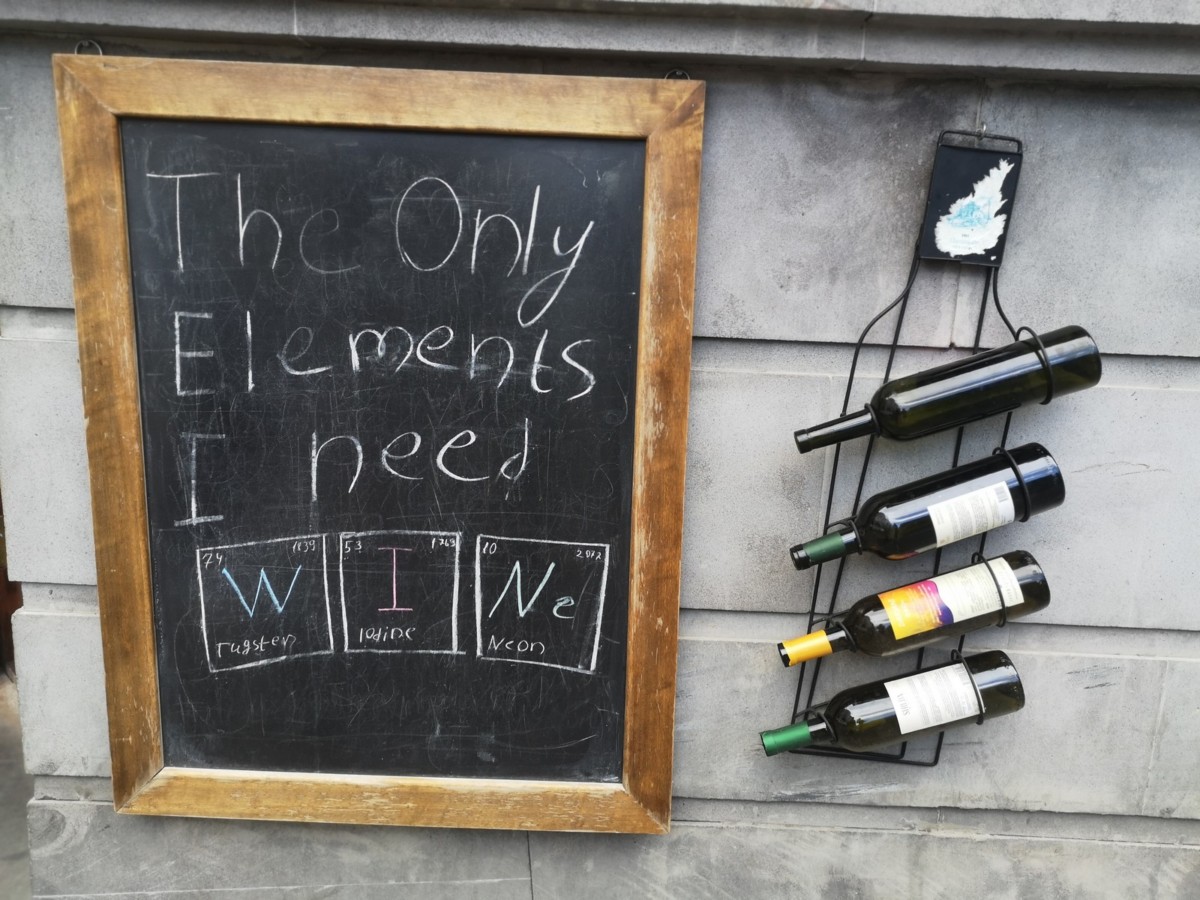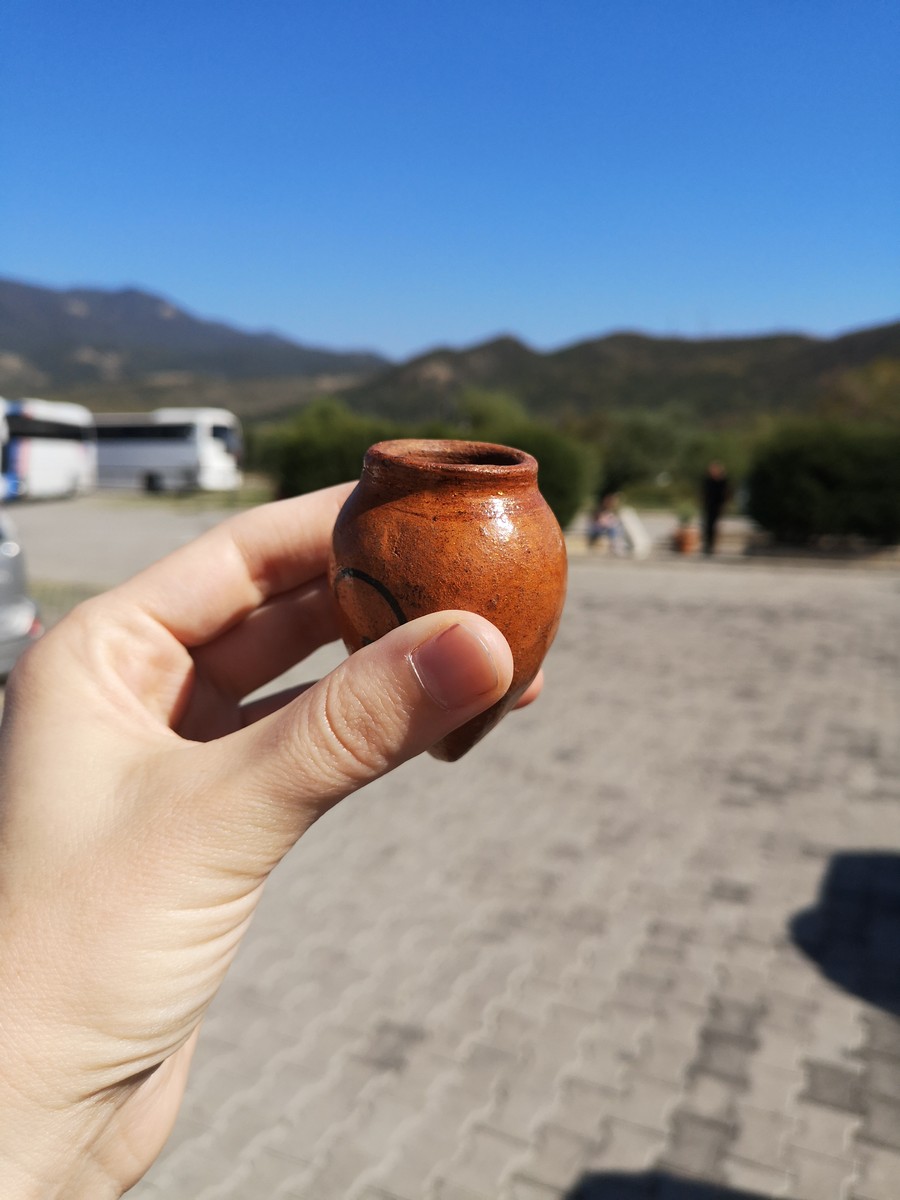 The shot glasses were in the shape of tiny "qvevri." When full size, "qvevris" are huge clay amphoras used for winemaking, in which wine is prepared while buried in the ground, with just the lip showing above the floor. Grapes are placed inside, covered, and left to ferment into wine.  
They come in came in many various shapes and sizes, they are molded by hand by skilled potters, and some are big enough to climb inside! This is useful for when they need cleaning 😉 The stages of production of Georgian wine have been developed over thousands of years. Many Georgian families have their own particular traditions, and they have specific places in their homes, where the qvevri are buried.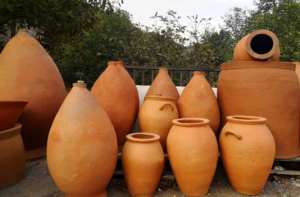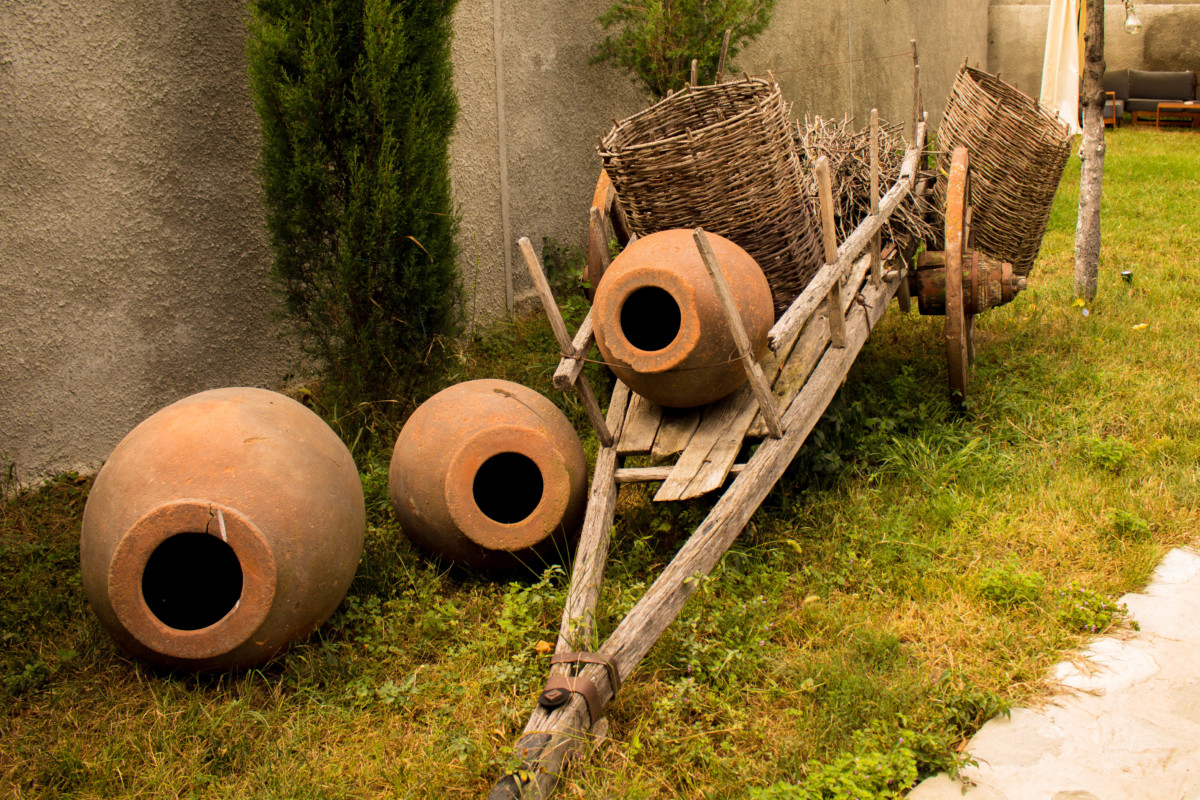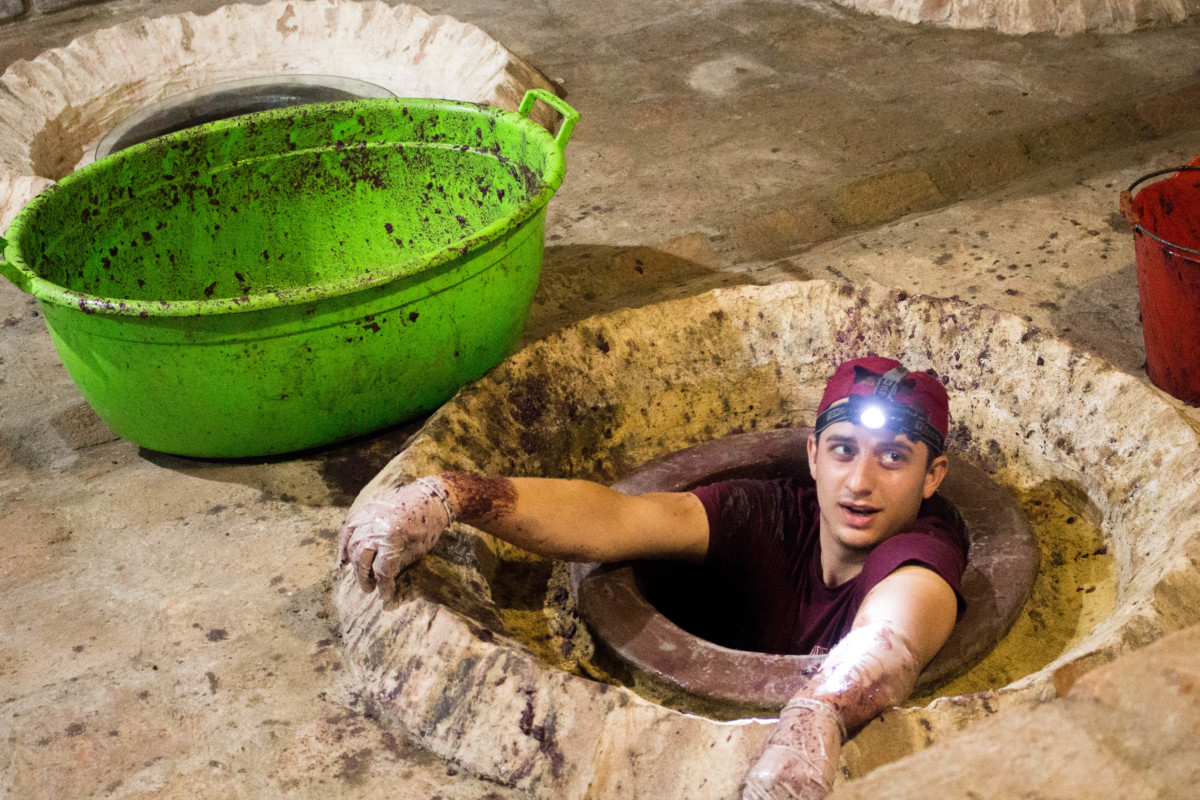 On the trip to Kakheti, the most famous wine region in Georgia, our guide Salome told us a legend of this land.
"When God was giving out lands to different nations, the Kakhetian people were late and showed up last."

What were you doing?" – God asked.

"We were celebrating – toasting and praising you!" the Kakhetians replied.
"Well, I only have one land left, which I wanted to keep for myself," God replied, "but I guess I'll give it to you!"
And so the small region of Kakheti contains dozens of grape varieties, with a history that goes back centuries."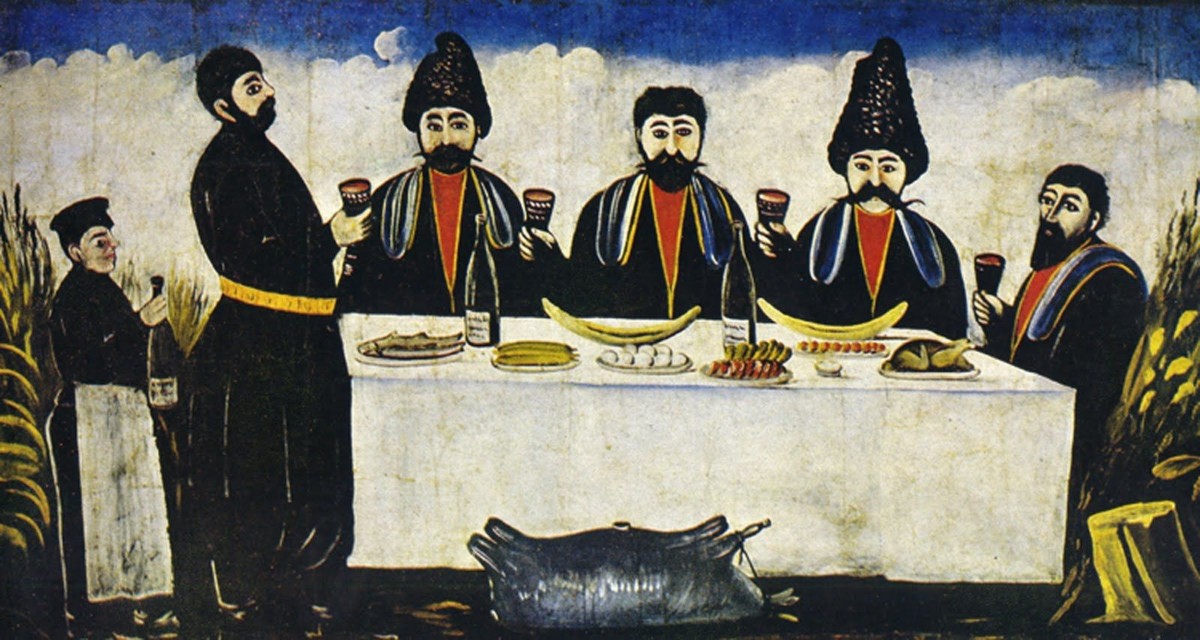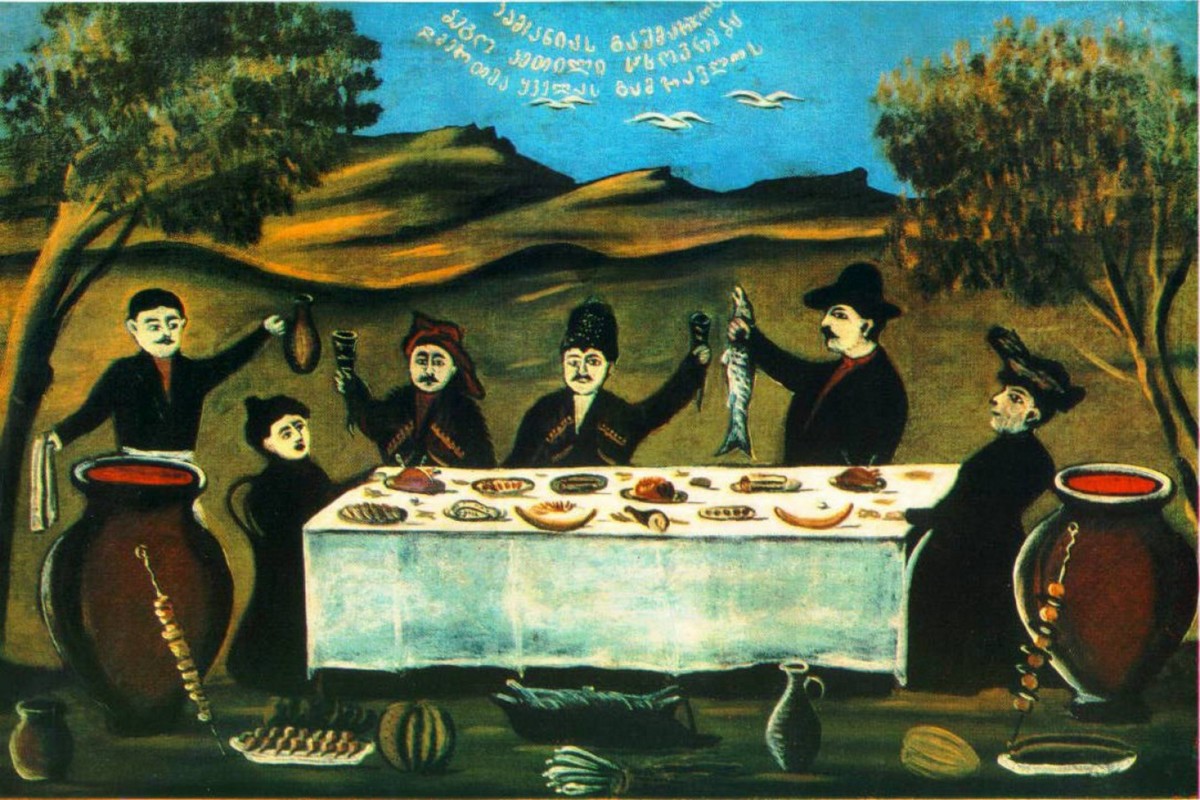 Our favourite stop on our wine tour was Shumi winery, located in a historic part of Kakheti, where Georgian wine was first bottled. We had a wine tasting in the beautiful garden setting, featuring a waterfall, and surrounded by picturesque vineyards.
Here together with our sommelier, Giga, we discovered the history of Georgian wine, and learned about ancient techniques of  wine and chacha (a high-spirit drink made out of grape shells and seeds, but that's another story!). We had four (or more, I don't remember!) sorts of wine, accompanied with cheese, churchkhela (Georgian candy shaped like a candle made from natural grape juice and different kinds of nuts, but this is also another story) and freshly baked bread..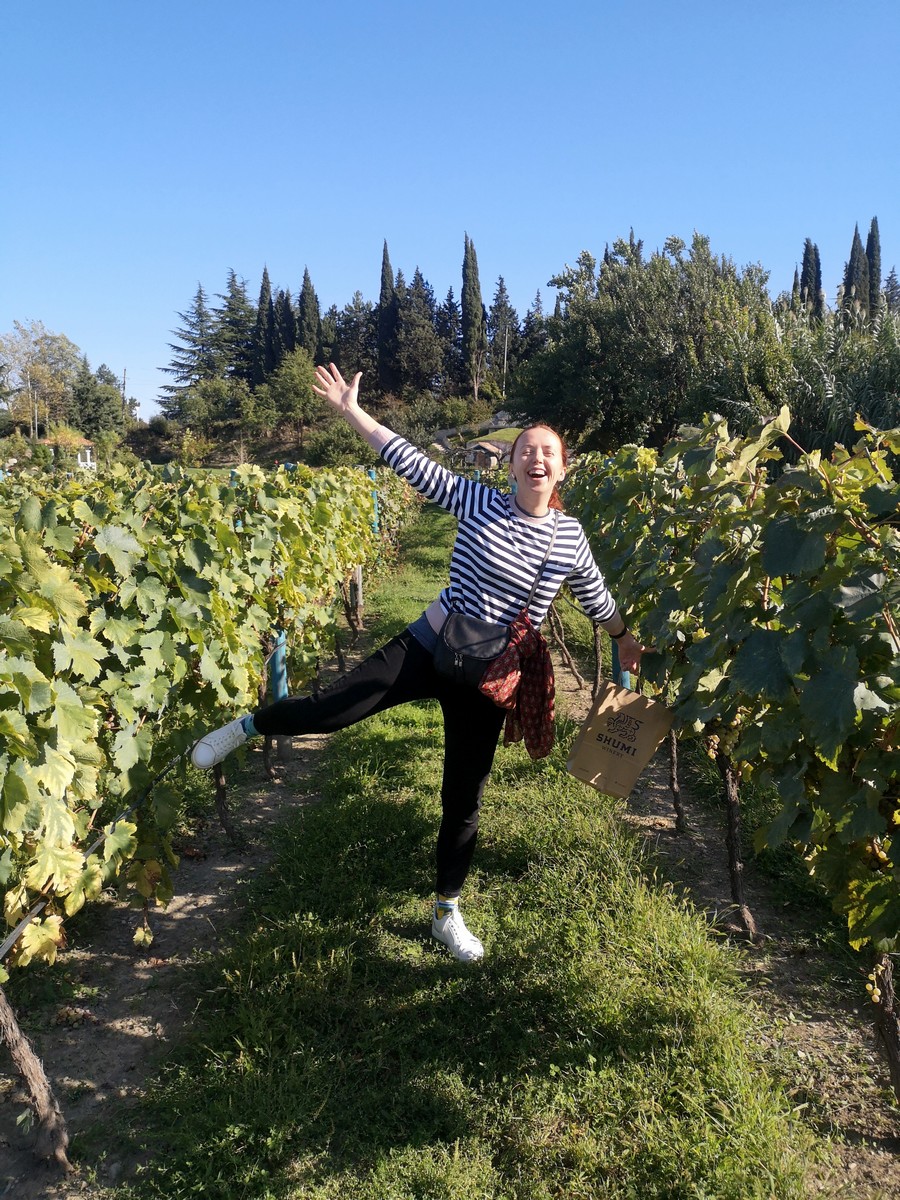 "For me was a great start of an incredible journey delving into the history of 8000 yo wine culture in Georgia – and there is still so much more to discover! We went home with a few bottles of newly discovered wine…

Gaumarjos!
Or "cheers" in Georgian!"
Blog Post by Yulia Kluskovska, our CFT Georgia Expert
Explore this undiscovered gem of a country on our Treasures of Georgia Tour.

September 20 – October 3, 2020
14 days | 13 nights