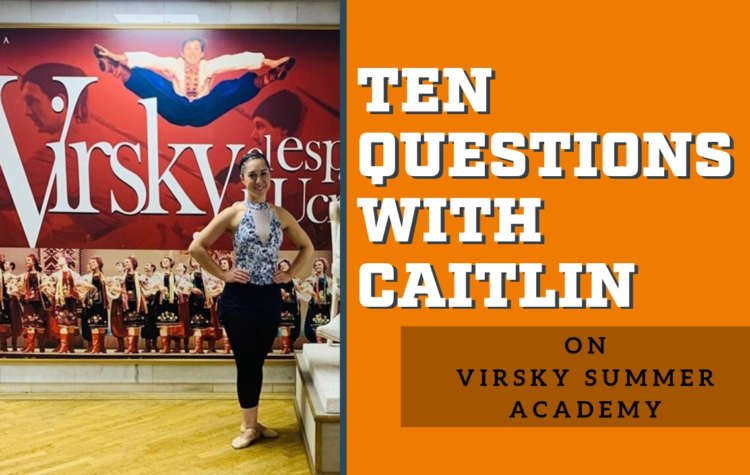 We talk to Caitlin, a Ukrainian dancer from Winnipeg, Manitoba, who took part in our Virsky Summer Training Academy this summer!
1. Tell us about yourself.
"My name is Caitlin, I'm from from Winnipeg, Manitoba."

"I moved to Edmonton to Dance with Shumka and have been dancing with Shumka for 7 years.

I teach Ukrainian Dance out of town in Vilna, Alberta and Athabasca, Alberta.

I attended Cobblestone's Virsky Summer Academy this summer, and it was an incredible experience!"
2. What were your first impressions coming into the Virsky studio?

"On the first day, it was safe to say I was a little nervous, and after the first day,I was surprised to be asked to join Virsky company rehearsals."

"They were preparing their shows for upcoming Ukrainian Independence Day, so it was really neat to see them rehearse the shows they were working on!"
3. What did it feel like to dance alongside Virsky dancers?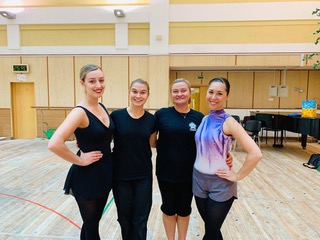 "The training exercises at Virsky are different than what I am used to, and it was a challenge to be pushed so hard next to the company dancers."

"But I learned lots of new things and really respect their talents. They are incredible athletes and it was such a rewarding experience being able to dance alongside."
4. What was your favourite part of the trip/experience?
"My favourite part of the experience was dancing with Virsky, and watching their show run through with the live orchestra."

"I also enjoyed getting to see the capital, Kyiv. There is also so much to see and do in Kyiv, and being able to navigate through using the metro let us do even more."
5.What was your favourite place you visited in Kyiv?
"Khreschatyk street is fun place to wander. It is Kyiv's main street and it is filled with lots of stores, restaurants, shops and bars!"
6. What it was like to experience Independence day in Kyiv?
"It was a really neat experience."

"It made you feel really happy to be part of the larger Ukrainian community. Everyone proudly wore their Ukrainian clothing and waved flags. We also got to see Virsky perform their concert on stage, which was beyond incredible."
7. Tell us about the food in Ukraine!
"There are so many delicious foods to try in Ukraine.  They also have the best coffee around and it's the perfect start to your day before Virsky rehearsal."
8. Was there anything you didn't expect?
"After one of our rehearsal days, we went to the beach (!) in Kyiv! Who knew Kyiv had a beach? I didn't!"

"You can even get the metro there. Epic. "
9. How did this experience change you? 

"It was a privilege to be allowed to train in Virsky's classes,

and I am happy I was able to add this experience to my dance adventures. All of your training will be put to the test and it will show you how hard you need to work to dance like Virsky. It will be hard, but it is also very rewarding, and really neat to see such incredible athletes at work."
10. What would you say to someone thinking about coming to train with Virsky next year?
"This is an incredible experience – if you get the opportunity, take it."

"The dancers train their whole lives to be as good as they are, so my advice to you (if you are ever in one of their classes) is to train with them as though you are performing, smile and just do your very best to follow along!"

*Top Tip

"If you are in the girls 'technique' class and you're spinning in groups, the last group spins the fastest – so get in there and don't wait until the last!
Also, bring character heels and a few pairs of extra ballet slippers!"
Follow in Caitlin's footsteps next year at our

Register online here now.