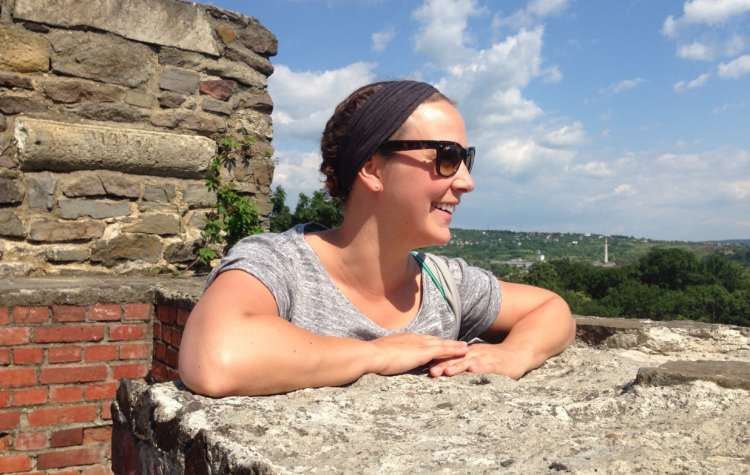 This past June, I had the amazing opportunity to join Cobblestone Freeway on their Ukrainian Dance Workshop Tour. I had longed to go on this tour for many years, but there was always some obstacle in the way that prevented me from attending, however this year was different and I was finally able to make it work. After applying for, and receiving, a grant from the UCC Hromada Legacy Fund, provided by Saskatchewan Lotteries, and UCC-SPC, to help fund the trip, my decision was final and I would depart on an unforgettable two week journey through Eastern Europe.
My desire to be a part of this tour was twofold; for one, I missed dancing immensely. I had recently retired from the Yevshan Ukrainian Folk Ballet Ensemble, out of Saskatoon, after dancing with them for over 18 years. I missed sweating in the studio, I missed learning new choreography, I missed being with my friends, people who I have shared the stage with for over half my life, and I missed the rush of performing. I wanted to re-live my days as a dancer with a semi-professional company and feel the joy of dancing so hard that your feet pulse with pain, your brain feels fuzzy from trying to master a combination, and your heart swells with a feeling of pure bliss.
Secondly, I wanted to be immersed in learning about the many different regions of Ukrainian dance, to aid in my instructing as a Ukrainian Dance teacher. Although, I had danced for many years and received great instruction, as a teacher I felt that I was coasting along a bit and unaware of the knowledge I lacked to improve my teaching. There was so much to learn and I was eager to advance my skills. I knew this tour would provide an invaluable learning opportunity for me to grow, develop, and learn as a teacher and choreographer.
Our tour started off in the lively city of Budapest, Hungary. After becoming acquainted with everyone, our group had the pleasure of attending a show by the Hungarian Folk State Ensemble. It was really interesting seeing the parallels between some of the traditional Hungarian dances and Ukrainian dances; these similarities were evident in the costumes, music, and steps. The performance showcased the rich and colourful Hungarian spirit, through dance, and had us anxious to begin dancing ourselves.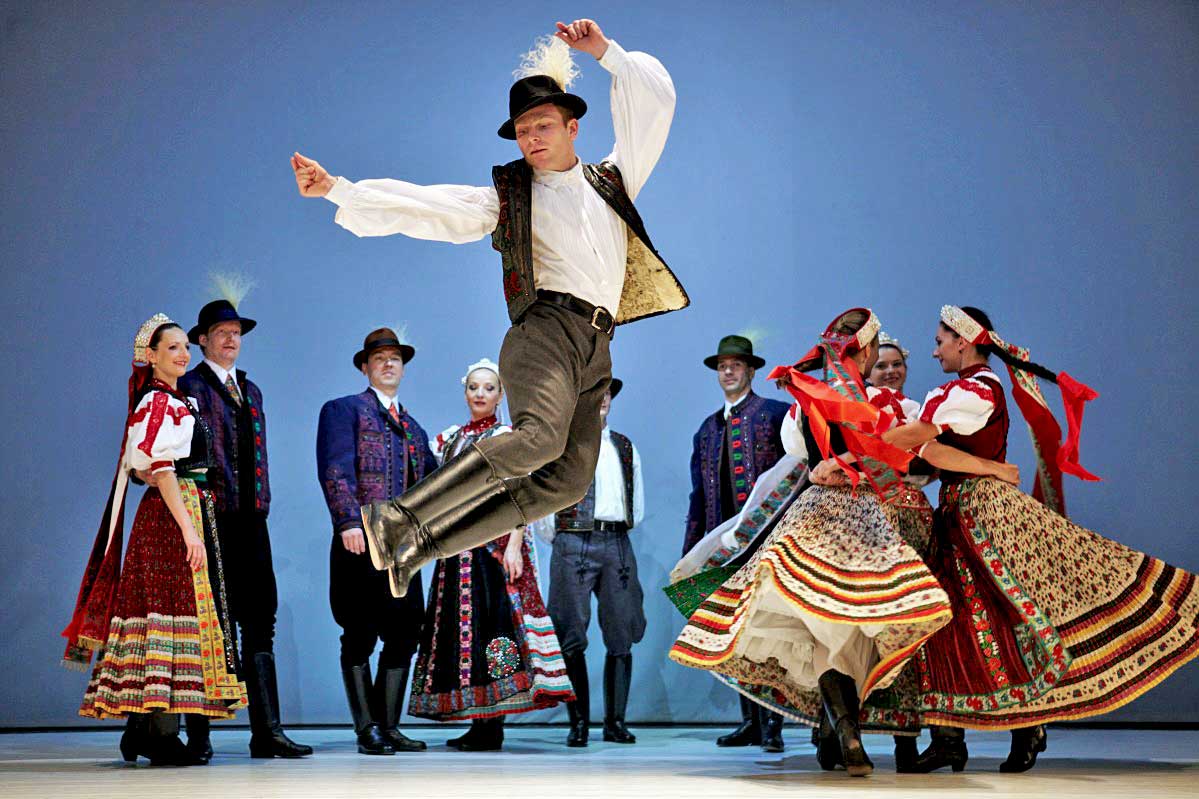 The next day we departed on a long journey to Romania, where we would make our home in the small village of Glodeni. On our first night we were introduced to our teacher for the next three days, Attila Szanto, founder, choreographer, and dancer with the Romafest Dance troupe. This man was a legend in his own right, being an expert in Transylvanian Gypsy Dance, body percussion, and traditional gypsy singing. Our first workshop tired both our feet and our brains; the rhythms, the beat, the music, and most importantly the steps, were foreign to us and we had to work especially hard to execute them. Atilla was very focussed on ensuring we felt the energy and the spirit of the dances and he truly wanted us to take what we learned from him and share it with others. Dancing was his passion and his livelihood and he had taken Gypsy dancing to a new level, having performed internationally and creating a group of dancers and musicians who were dedicated to learning from him and passing on his knowledge. After three days with Atilla, our gypsy repertoire and lexicon had grown immensely.
But, it wasn't all dancing all day. What is great about a Cobblestone Tour, is that while learning about the dancing, you were also learning about the culture by being totally absorbed in it. We were lucky enough to tour a nearby gypsy village and meet the locals, where we got a glimpse into the daily lives of Romanian gypsies. On our last night we were even invited to a party, where we ate traditional gypsy goulash, listened to authentic gypsy music, and danced with the villagers. Although, from the outside it appeared as if these people had very little in terms of money and belongings, what was evident is that they were happy and they were more than willing to engage in a dance or two with us.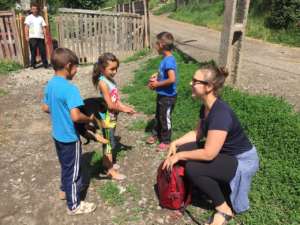 Our next stop was the delightful city of Chernivtsi, Ukraine. We began our studies at the philharmonic with the talented Bukovynian Dance and Choir Ensemble. We got to be a part of their daily rehearsal by participating in ballet barre, ballet centre, corner, and finally learning choreography. The repertoire of this group is immense and we were lucky enough to learn combinations and sections from many of the ensemble's most famous dances. Leonid Sydorchuk, the ensemble's leader, even gave us a tour of the ensemble's costume room, where we were able to try on different pieces, ask questions and take pictures for our own reference; some of these costumes were decades old, but this lapse of time did not diminish their allure.
On our last night in Chernivtsi, we were treated to an unforgettable performance by the choir Gerdan. The singing sent shivers through our bodies and brought tears to our eyes; and left us longing for more the minute the encore ended. This choir performance was definitely a highlight for us all and was a great addition to an already stellar tour.
After a relaxing few days in the picturesque Carpathian mountains, where we enjoyed scenic tram rides, delicious shashlik and even a warm dip in a chan, we were off to Uzhhorod. Uzhhorod is a very unique city that lies close to Slovakia, Hungary, Romania and Poland; this proximity results in a Transcarpathian dance style that is influenced by many different cultures.
While in Uzhhorod, we again had the opportunity to practice with and learn from the city's state ensemble the Zakarpatskiy National Ensemble & Choir. Along with dancing some famous Transcarpathian numbers including Bereznianka and Dubotanets, we also were taught the regional difference between all the different dances of Zakarpattia including, costuming, music, and steps. Although the information surrounding this topic is vast, many of us came away less confused and more knowledgeable. Our last night in Uzhhorod was concluded by a wonderful zabava and performance by yet another outstanding choir, the Folk Ethnographic Ensemble Uzhhorod.
To conclude our trip, we spent our last night in the magical city of Lviv, where we toured the city centre, shopped the bazaar and enjoyed a meal while reminiscing about the past 2 weeks. I would highly recommend this tour to anyone who is enthusiastic about Ukrainian Dance, whether you are a dancer, instructor, choreographer or simply a dance enthusiast. Cobblestone creates a trip that combines the best of everything that leaves you wanting to plan your next adventure the minute you get home. The goal of these workshops was more than achieved; I came back with an expanded knowledge and repertoire of Ukrainian dance and I got the opportunity to work and learn from various artistic directors, ensembles and fellow dancers, instructors and enthusiasts. I was able to develop my skills, learn from experts, and refuel my passion for Ukrainian dance. I hope I can have the opportunity to partake again someday.
written by – Luba Wojcichowsky