Itinerary
Day
1-3
Your journey begins in Kyiv - one of the most ancient cities in Europe. The capital of Ukraine, this beautiful and historic city has played a key role in shaping the past, present and future of this country. Explore its Golden Domed churches, visit open air museums, and get to know this unique, cosmopolitan city at the heart of Ukraine. Meet local women, learn about their lives, and how they are shaping the modern face of Ukraine.
Day
4-5
Odesa – known as the Pearl of the Black Sea, is a blossoming, cosmopolitan city, and historic Black Sea Port. Immigrants from all over Europe were invited to make their fortune here when Odesa was founded in the late 18th century by Russia's Catherine the Great, making Odesa is one of the most multicultural cities in Ukraine. You will feel its unique vibe as you wander its eclectic streets stunning buildings, and the famous Potemkin steps which sweep down to the glistening Black Sea. Hear the legends of the ancient neighborhoods, and indulge in the local seafood and Shabo wine. We will show you every side of Odessa, from its most iconic places, to its secret hidden treasures.
Day
6-8
Chernivtsi – the Capital of Bukovyna – is a cosmopolitan and multicultural city. It is considered one of Ukraine's most important educational and architectural sites, aswell as being the birthplace of Olha Kobylyanska, one of Ukraine's first feminist writers. Explore this beautiful city, while meeting local women and learning about their craft – from intricate beaded blouses, to a group who sing old-world folk songs with incredible energy.
Day
9-11
Visit a traditional village deep in the Carpathian Mountains, and experience a lifestyle that has remained unchanged for centuries. Home to sweeping green forests, flowing rivers and breathtaking waterfalls –it's hard not to feel at one with nature when you breathe the fresh mountain air. Meet the local villagers, dance the Arkan (traditional Hutsul dance) and share traditional food seated around one table. Hear the storiesof the incredible women who have preserved traditions and customs for centuries. Soak up the rich culture, enjoy the warm hospitality of these mountain people, and experience their simple way of life.
Day
12-16
Lviv is an ancient, historic city in Western Ukraine, that is quickly becoming one of the most popular tourist destinations in Ukraine, and for a good reason! With its quaint charm, cobblestone streets and classical architecture, you won't fail to fall in love with this city! Learn about its varied history, and enjoy shopping in one of its many colourful markets. Discover the incredible work that goes on in this area to help and protect local women, and how women unite in the face of adversity. We hope that the woman's perspective of Ukraine has showed you the rich culture of this beautiful country.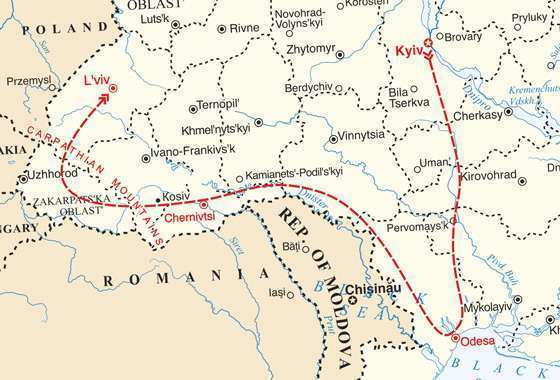 Highlights
Female artisans: meet the women who have preserved crafts and folk customs for centuries
Community spirit: meet women's organizations which support war widows in Kyiv and Lviv
Golden domes: explore the beautiful capital of Ukraine – Kyiv
Arts & Antiques: shop on the famous Andriyivskiy Uzviz – home to Kyiv's artists and craftspeople.
Wine Tasting: enjoy a winery tour and wine tasting at Shabo near Odesa
Magical Buildings: Marvel at the stunning University of Chernivtsi, a UNESCO World Heritage Site.
Beaded beauty: see how the women of Vashkivtsi make incredible beaded shirts
Folk songs: dine with the wonderful Gerdan Ensemble and hear them sing!
Traditional arts: learn how women make traditional "lizhnyky" - woolen blankets in the village of Yavoriv.
Hutsul Wedding: attend a Cobblestone Freeway exclusive – a recreation of a traditional Hutsul Wedding.
Antique costumes: get a photoshoot in antique, traditional costumes in the village of Babyn.
Quaint streets: explore the quaint and beautiful city of Lviv
Cobblestone Exclusives: attend private concerts, cultural events, and workshops exclusively for Cobblestone freeway travellers.
Bespoke Tour - design this tour to suit you.
Your Tour - Your Way!