Itinerary
Day
1-3
Arrive in Kyiv – the capital of Ukraine! - Spend a couple of days in Ukraine's Capital and experience a variety of exciting, fun things we have planned for you – wander through the old city centre down Andriivsky Uzviz where all of Kyiv's artists live and work. See the city's Cathedrals, the Golden Gates, Independence Square and more! Of course, we aren't going to let you leave without experiencing some local folklore and a zabava!
Day
3-6
Early morning we leave Kyiv for a day filled with special experiences. Today we're visiting Kaniv – the resting place of Taras Shevchenko. Take in the beautiful views, described in many of his works, rest by Dnipro River and visit the local museum dedicated to his life and works. Once we get to Poltava we have no less exciting stories and sites planned. We will learn everything about the lives of Ivan Kotliarevsky and Mykola Hohol traveling through Poltava, Hoholevo and Dykan'ka. Add some great sightseeing opportunities, the best of regional cuisine and folklore – you might end up wanting to stay here!
Day
7-9
Our next stop is Chernivtsi, the heart of Bukovyna. See the old city, the breathtakingly beautiful University and sample local culinary specialties! Spend a day in Kamyanets Podilsky, and admire the ancient fortress on the banks of the Dniester River. Chernivtsi is also home to some of Ukraine's best folklore, so be sure to look forward to some very special performances. Optional day to visit family – ask us how!
Day
10-12
We will now be travelling to the Carpathians and our journey begins in style – with a real village zabava. Traditional songs, dances, the famous Ukrainian hospitality and much more! Once we get to the Carpathians you'll get to enjoy the mountains, experience some of the authentic traditions and see why the region is often considered the cultural treasure house of Ukraine and an inspiration well! Traditional crafts, architecture, culture and more – there's lots to look forward to! Surely we will learn about some of the best literary and cinematographic works created here. Do you any guesses who we're talking about?
Day
13-15
The last stop on our journey is the beautiful Lviv! On our way there, we will stop in the city of Kolomyia and visit the famous Pysanka Museum, then once we arrive in Lviv, you can enjoy a relaxing night at your hotel in the very heart of the city. Spend your days exploring this picturesque city, declared a UNESCO World Heritage Site, see some of Lviv's most famous attractions including the Lychakiv Cemetery, St. George Cathedral, the beautiful Opera House AND enjoy a very special opportunity – the chance to celebrate Ukraine's Independence Day, involving an 'avalanche' of festivities! Take the time to stock up on souvenirs and sample the different kinds of coffee, chocolate and beer this city boasts! To end our journey on a high note, we'll invite you to a festive good-bye dinner in one of the city's many truly unique restaurants.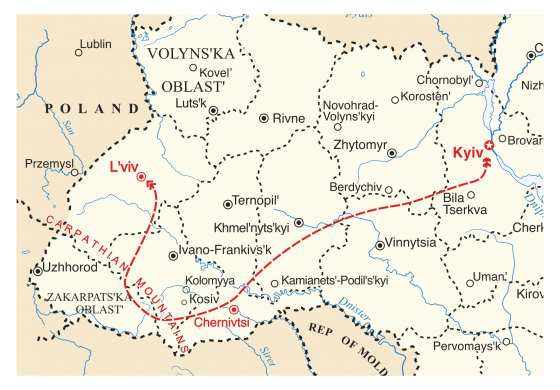 Highlights
Visit the birthplaces of famous Ukrainian writers and learn more about their life stories
Enjoy the Mystic Carpathian Mountains and a Cobblestone Freeway exclusive – unforgettable performance from a local folk ensemble
Find a treasure at the Hutsul crafts bazaar – where the wild things are!
Visit the village of Tulova – another Cobblestone Freeway exclusive
Attend private concerts and cultural events exclusively for Cobblestone Freeway travelers.
Available as a custom group tour!