Itinerary
Day
1-2
We start our journey in the beautiful city of Zagreb - capital of Croatia, and an old city with a young heart. Centuries of history and beautiful architectural sites, but with a playful atmosphere. Discover the strong women building the future of Croatia at the Center for Women's Studies. Wander the wide boulevards by day, and soak up the lively atmosphere after sunset. Get a taste of Croatia, explore its colourful Open Air Market in Dolac, buy your own ingredients and learn how to make delicious Croatian cuisine in a cooking class with local women!
Day
3-5
We'll take a trip to Europe's smallest country capital, the picturesque Ljubljana, and learn about this city from our best female guide. Go truffle hunting in Motovun, and taste them too! And discover delicious Istrian wines at a wine tasting, including the ancient Teran wine. Be welcomed for breakfast into the home of a local woman, and try her homemade cheese, honey and Rakija, before visiting the Plitvice National Park. It is the country's oldest and largest national park, and has been named a UNESCO World Heritage Site. You'll see why when exploring its magical, natural beauty.
Day
5-6
On the way to Split, explore ancient
Zadar
., where you can see Roman and early medieval ruins. See the famous "Sea Organ", an instrument played by the movement of the Adriatic Sea. Visit the ancient city of Stone – Trogir, and medieval
Split
.– the architecture of these cities will take your breath away, and will make you feel like you've stepped straight into the set of Game of Thrones! As well as being an ancient city, Split is also considered the Capital of Fashion in Croatia. Enjoy a tour with one of our female guides, and learn more about this creative medium which has been a form of expression for women across Croatia for centuries.
Day
7-8
Coming to Croatia and not seeing the islands is like visiting Rome and not seeing Pope. We'll visit the island of Hvar, the most famous of all 1244 islands of Croatia! Famous for its rich history and legacy but primarily for its stunning scenery, we'll visit Hvar's famous lavender fields. The bright purple flowers and calming scents stretch for miles. Meet the local women who work these lavender fields, and discover the variety of products they have developed over the years using the fragrant oil – from creams to soaps and candles. We will also visit the convent of nuns of Saint Clara, where for centuries they have been making Agave lace.
Day
9-11
We'll head to Mostar – the majestic city of bridges in Bosnia & Herzegovina, and learn about the city from our guide. She will share her life story of growing up and living in Mostar as a woman, wife, mother, and worker, before taking us to her very own coffee house, to taste Bosnian coffee. Visit the stunning Old City of Dubrovnik, marvel at the picturesque white-stoned buildings, while learning about the role of women in the history of this city. Learn how the incredible Dubrovnik filigree jewelry is made in a demonstration, before rounding off our trip meeting the locals in an authentic village in the Dubrovnik area, where you can dance to local music and experience true Croatian hospitality. We hope that the woman's perspective of Croatia has shown you the rich culture of this beautiful country.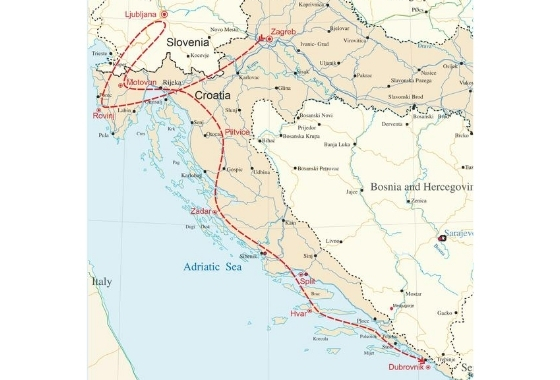 Highlights
Female artisans: meet the women who have preserved crafts and folk customs for centuries
Cosmopolitan Vibes: see the modern side of Croatia in its capital – Zagreb!
Inspiring women: visit the Center for Women's Studies and meet the incredible women building Croatia's future
Local Cuisine: take a Croatian cooking class with local women
Slovenian Alps: marvel at the beautiful city of Ljubljana
Truffle hunting: experience & taste this rare delight in Motovun
Istrian wines: taste the ancient and regal Teran wine
Native home: be welcomed for breakfast into the home of a local woman, and try her homemade cheese, honey and Rakija!
Breathtaking Nature: admire the beautiful Plitvice National Park
Sound of the Sea: listen to the mystical Sea Organ in Zadar.
Roman classics: travel back in time in historic Split.
Lavender fields: see the stunning scenery of Hvar Island
Agave Lace: discover the incredible art made by the nuns of St.Clara
City of Bridges: marvel at Mostar, and it's historic bridge, uniting a divided city
Unparalleled Beauty: explore the Pearl of the Adriatic Sea – Dubrovnik.
Cobblestone Exclusives: attend private concerts, cultural events, and workshops exclusively for Cobblestone Freeway Travellers.
Bespoke Tour - design this tour to suit you.
Your Tour - Your Way!