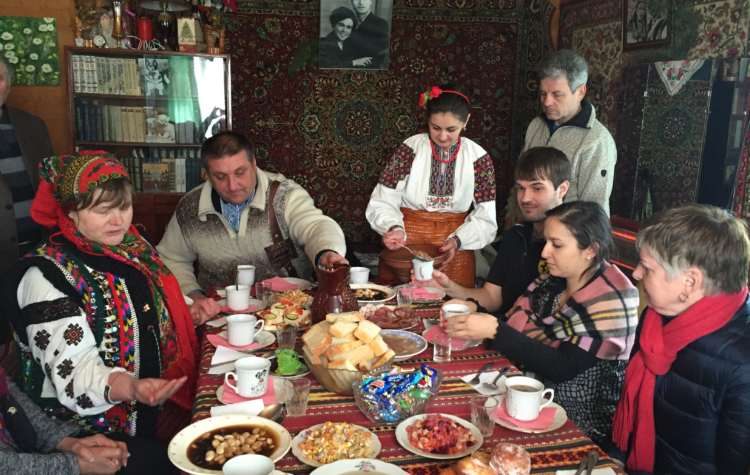 The dreadful days have come. Summer ended. School started. The leaves are changing color in a hurry to welcome winter, and we are here starting to count the days until Christmas. 95 days to be exact.
Although Ukrainian Christmas is on January 7th, Ukrainians don't waste time waiting; they are out there beginning of December celebrating the winter holidays! Picture this – meeting with your friends on the main square in Lviv, walking around the Christmas market where drinks, food and little gifts are being sold, sipping on glintwein (that's mulled wine – if you haven't had any at this point in your life I will personally give you a recipe), and carolers all around you singing your favorite tunes to get you in the holiday spirit. The streets of Lviv are FILLED with people of all ages just enjoying life.
Don't be surprised – its not just Ukraine that is like this. All of Europe loves to celebrate. The idea might be the same, but each country has their own little tradition that creates a magical experience.
New years is celebrated like anywhere else in the world. Family, friends, champagne and fireworks!!! Reminiscing on the past year and making plans for the new.
Ukrainian Christmas is a special holiday. It is a time where family and friends gather at the selo, or just at a family home celebrating the birth of Jesus Christ. Picture, a family going out to their grandparents' home at the selo to have their Christmas dinner. The dinner table is set with 12 delicious meatless dishes, samohonka (moonshine), wheat under the table, garlic on the corners of the table, and an extra place setting for those who could not be there. With the first star, they begin!
Laughter, singing and stories throughout the night with family and friends is what makes Christmas special. Following dinner, the youth goes out to carol to other houses in the village.  The next day is not much different. There is another family dinner with more singing and laughing. Did we mention Ukrainians love to celebrate?
The festivities are not over yet. January 13th is Malanka or Old New Years Eve. This is a fun holiday! People dress up in costumes and carol and have mini-plays depicting the story of Malanka.
Just thinking about it makes me excited for this year's holidays as we leave for Ukraine in December and enter a winter wonderland. It makes the thought of cold weather and snow, a pleasant one. I hope you can join us this year on our Christmas tours