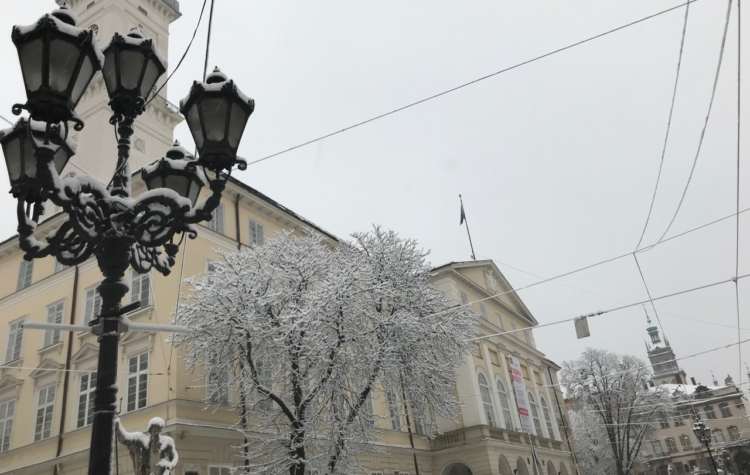 The square sparkles and shines with beautiful decorations and twinkling lights. There is an ice rink where people can skate, and a market full of locals and tourists. Everyone is festive, wandering and sipping on mulled wine while browsing the wooden huts for goodies. The atmosphere is rich, festive and magical.
The holiday season has been an exceptional and beautiful part of our time in Lviv. For many Ukrainians, following the Julian Orthodox calendar, January is Christmas time. Many however celebrate both, so the Christmas season lasts into the New Year.
The Christmas market fills Rynok Square. The Opera House pathway is lined with vendors selling goodies to buy, eat and drink. The famous ice Rink set up in the square, is always packed with skaters. A great place to people watch, and of course have a few good laughs over those who are new to skating. We spend time wandering our favourite spots and are also keeping busy with dancing. Taking in all the culture Lviv has to offer in our last month here.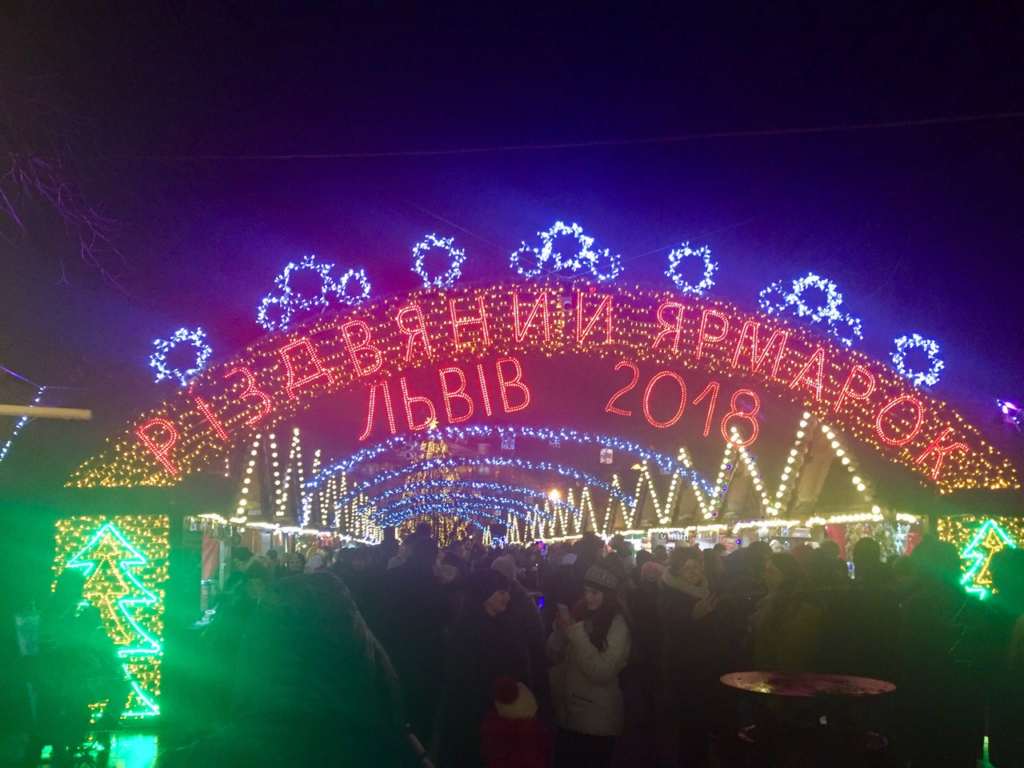 As November came to an end, so did our time with the choreography department at the Ivan Franko National University of Lviv. In December, we were given the opportunity to study choreography and dance at the Lviv College of Culture and Arts. The college organizers organized separate classes for us to train with some very talented Ukrainian Dance Masters. Over the course of three weeks we studied Hutsul, character barre and choreography. Lemko choreography and Bukovyna choreography. In each class we learned both male and female steps, étude from each region and barre exercises. Later, at the end of our time there, we would be examined on what we had learned. Exam day was exciting for us all, it was another opportunity for us to perform and showcase ourselves. We were excited to find each of us would be presented with a certificate. This certificate, from the Lviv College of Culture and Arts, recognized our hours studied in each region.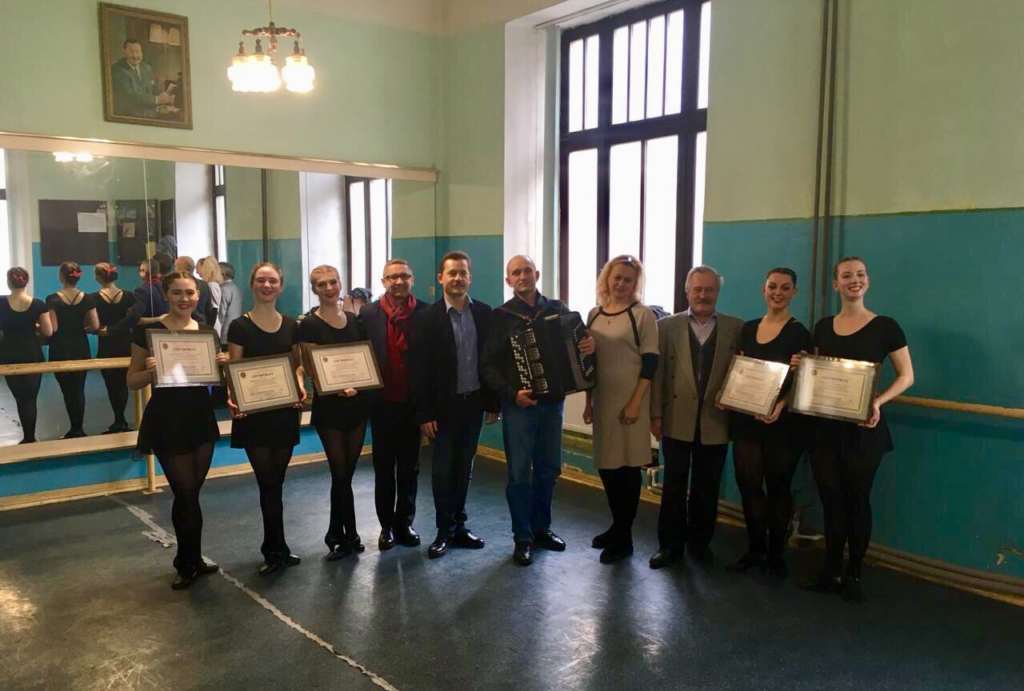 Throughout December along with our classes at the college, we continued rehearsals with our Lviv dance family ,Yunist. We worked in preparation for their upcoming Святий Миколай – Saint Nicholas concert.
The holiday season in Ukraine traditionally starts after December 13th, after which Андріївські Вечорниці, the eve of St. Andrew's day is celebrated . A night when young men and women gather for a party filled night of fortune telling, pranks and fun. The night is usually focused around who would marry whom by playing games that see into the future. We participated in this unique evening of Ukrainian traditions by attending a celebration at Shevchenkivsky Hay, the open air museum located in Lviv. During the evening we learned how to tie various regions of hystka's -headscarves and brushed wool in preparation to be made into different items.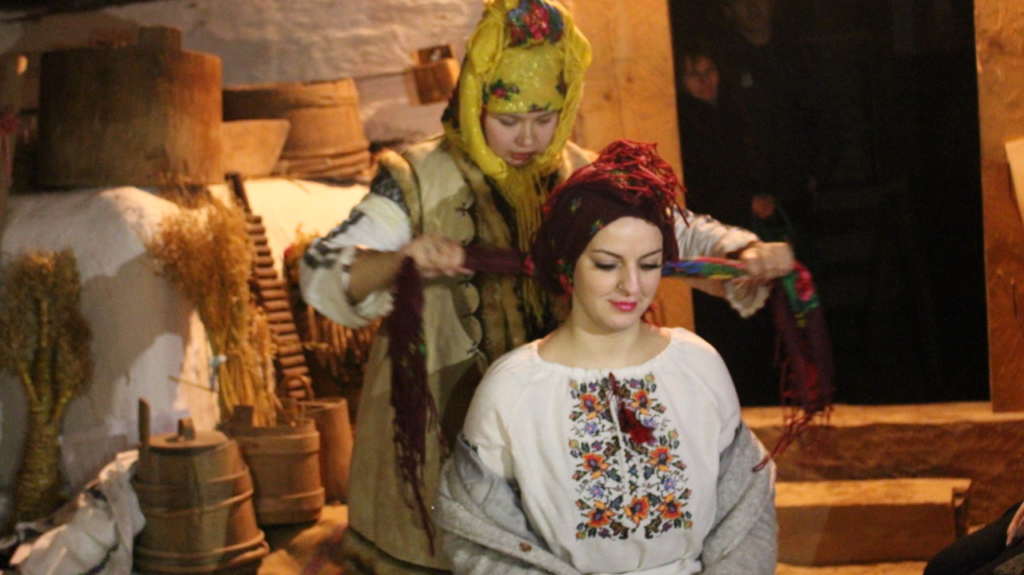 We counted beans for an old tradition of, such as, "does he love me, does he love me not". All these different traditions were a way of finding out if the ladies were ready to be wives yet or not. The evening went on with dancing, games and continued old traditions. After St. Andrews eve, Ukraine is in full swing of the upcoming holidays. Carols are now allowed to be sung, and Christmas preparations may fully begin!
Now as December ends, we head into the New Year and on to the next city of Chernivtsi. We say a goodbye for now to our dearest Lviv. We now head into the Carpathian Mountains with CobbleStone Freeway to experience true village and country life. Here we will take part in Christmas celebrations, and ring in 2018. We celebrate and have time off from dancing before we move to Chernivtsi.
– Kaitlyn Kruk