Itinerary
Day
1-3
Welcome to the Balkans! Dive straight in with a grand Hungarian welcome in Budapest! Explore both the Buda and Pest sides of this beautiful, historic city; enjoy a
sunset cruise
down the Danube River. Experience traditional music and a folk performance in a Hungarian restaurant, or
Csarda
!
Day
4-5
On the way to the capital of Belgrade, stop in Novi Sad – a beautiful town with a rich Austro-Hungarian legacy. Once in Belgrade – explore the fascinating city centre, and listen to interesting stories that have shaped this city over time. A mix of old and new, you can check out ancient churches and hip underground bars, eat traditional cepavi kebabs, or eat at contemporary restaurants in the lively centre.
Day
6-7
Sarajevo, the capital of Bosnia, is city with a diverse, multicultural history. For over four hundred years, mosques, synagogues, Orthodox and Roman Catholic churches have stood side by side. Visit the "Tunnel of Hope" – a tunnel which allowed a flow of humanitarian aid into Sarajevo during the Siege of Sarajevo during the Bosnian War.
Day
8
We'll make a stop in Mostar – the majestic city of bridges and arches, where you'll feel as though you've stepped back into another century. Experience a traditional Bosnian coffee tasting at the famous
Alma Café
, and learn about the coffee culture of Bosnia as you sip coffee and taste Bosnian Delight.
Day
9-19
Welcome to beautiful Croatia! Arriving in Dubrovnik, we can visit some of the many UNESCO Cultural Heritage sites Croatia has to offer. Take a day to explore Montenegro - a land where the mountains descend almost directly into the sea, creating a surreal landscape. We will explore many of Croatia's ancient cities, including
Split
, Trogir, Klis, Hvar,
Zadar
, Plivitce and finally finishing off in Zagreb.
Day
20
We'll take a trip to Europe's smallest country capital, the picturesque Ljubljana! Wander it's many bridges in its historic centre, relax in one of its many riverside café's and watch the world go by.
Day
21
Vienna is truly an impressive, imperial city. We will explore the stunning Schonbrunn Palace, and other important architectural sites in Vienna's historic centre. You'll get to round off your trip participating in an apple strudel making lesson, and of course, tasting!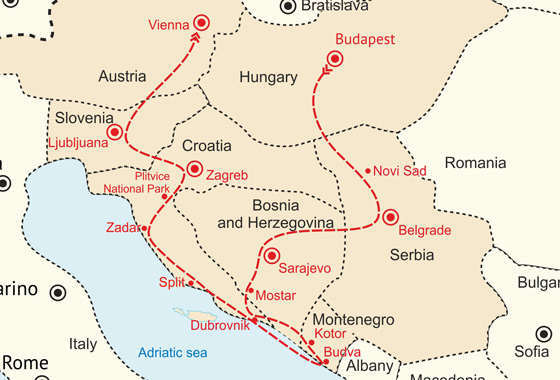 Highlights
Buda and Pest: explore diverse and beautiful Budapest.
Danube Cruise: see the city of Budapest lit up at night on a river cruise.
Fiery Dances: see a folk performance in a Hungarian tavern, or csarda!!
Diverse history: discover the story of the city of Belgrade
East meets West: unearth the Mix of cultures in Sarajevo
Bosnian coffee : learn how the Bosnian's drink their coffee in a masterclass
City of Bridges: marvel at Mostar, and it's historic bridge, uniting a divided city
Unparalleled Beauty: explore the Pearl of the Adriatic Sea – Dubrovnik.
Secluded Bay: relax in Kotor Bay – a natural gem of Montenegro.
Roman classics: travel back in time in historic Split.
Sound of the Sea: listen to the mystical Sea Organ in Zadar.
Breathtaking Nature: admire the beautiful Plitvice National Park.
Cosmopolitan Vibes: see the modern side of Croatia in its capital – Zagreb!
Quaint charm: soak up the beautiful city of Ljubljana, Europe's smallest capital
Apple Strudel: take a master class in how to make a traditional Viennese apple strudel!
Cobblestone Exclusives: Attend private concerts, cultural events, and workshops exclusively for Cobblestone Freeway Travellers.