Itinerary
Day
1-4
Enjoy the incredible festival program we have planned for you! Partake in the official Opening Ceremony of this wonderful festival, with a performance from our host group. Take the chance to participate in dance and vocal workshops with local experts, join in in the Festival parade, watch the stunning performances from groups around the world, and finally party at the Grand Zabava! Not forgetting the chance to explore beautiful Lviv - you will see why they call Lviv the Paris of Ukraine!
Day
5-7
After the excitement of the Festival, we will head up to relax in the beautiful Carpathian Mountains. On our way to Kosiv, we will stop in the town of Kolomyia, and visit the world's only Pysanka museum! Pay a visit to the famous local bazaar in Kosiv, and stock up on traditional, handmade Ukrainian artistry. Learn about Hutsul traditions, dances and handicrafts, meet the local people, and admire the stunning scenery of the Carpathian Mountains.
Day
8-10
Arriving in the capital of Bukovyna, learn the fascinating history of this multicultural city, and visit some of the most beautiful landmarks. Chernivtsi's University is a magical collection of stunning building, which will make you feel as though you have stepped into a fairy-tale. Soak up the lively Bukovynian culture - learn some Bukovynian dances and taste some of the delicious local cuisine!
Day
11-14/15
Welcome to the City of Golden Domes – the beautiful Capital of Kyiv! Explore the UNESCO world heritage sites of Kyiv. Walk around the St. Andrew's Descent and do some souvenir shopping. We'll round off our trip by celebrating Ukrainian Independence Day in Kyiv, and enjoy our other spectacular festival – the World of Ukrainians Festival!
Day
15-19
(Optional) Extend your trip by 5 days ! Spend a few more days enjoying what Kyiv has to offer – visit the famous cave Monastery of Pecherska Lavra, the Chernobyl Museum; take optional day trips to Shevchenko's grave in Kaniv, or a day to the now ghost-town of Chernobyl!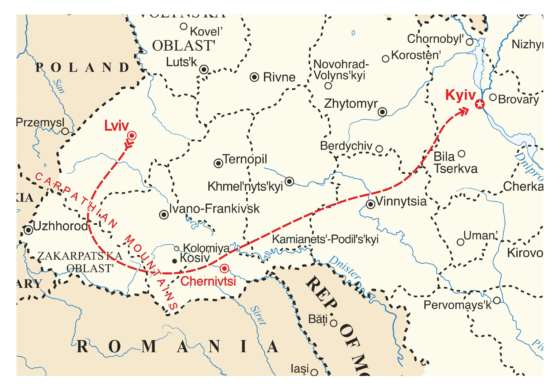 Highlights
Dance festivals: be a part of the International Ukrainian Dance and Culture Festival in Lviv, and World of Ukrainians Festival in Kyiv.
Dance Workshops: enjoy exclusive workshops with dance ensembles in 4 different cities!
Hutsul Wedding: attend a Cobblestone Freeway exclusive – a recreation of a traditional Hutsul Wedding.
Village visit: meet locals in the authentic Ukrainian village of Tulova
Magical Buildings: marvel at the stunning University of Chernivtsi, a UNESCO World Heritage Site.
Folk songs: hear the wonderful Gerdan Ensemble perform in Chernivtsi.
Independence Day: join the incredible Independence Day celebrations in Kyiv
Cobblestone Exclusives:attend private concerts, cultural events, and workshops exclusively for Cobblestone freeway travellers.