Proposed Itinerary
Day
1-3
Wander Kyiv through the old city centre down Andriivsky Uzviz where all of the artists live and work. See the city's opera House, the Golden Gates, Independence Square, and more! Of course, we aren't going to let you leave without experiencing some local folklore and a zabava or two!
Day
4-6
Arriving in Odessa, explore this marvelous city and its ornate architecture including the Archeological Museum, the Opera and Ballet Theatre, Cathedral Square, and Philharmonic Theatre, the catacombs and much more! Look forward to spending a fun day at a winery in Shabo and some time to relax at the beach.
Day
7-8
In Chernivtsi, the heart of Bukovyna, see the old city, the breathtakingly beautiful University, and sample local culinary specialties! Spend a day in Kamyanets Podilsky, and admire the ancient fortress on the banks of the Dniester River.
Day
9-11
We will now be travelling to the Carpathians and our journey begins in style- with a real village zabava. Once we get to the Carpathians you'll get to enjoy the mountains, attend a traditional Hutsul wedding and, surely experience the living traditions of the region!
Day
12-15
On our way to Lviv, we will stop in the city of Kolomyia and visit the famous Pysanka Museum. Spend your time in Lviv exploring this picturesque city, declared a World Heritage Site, see some of its most famous attractions including the Lychakiv Cemetary, St. George Cathedral, the beautiful Opera House, and more!


$2900 USD*The price will depend on number of travellers. Please contact us to get the quote for your group.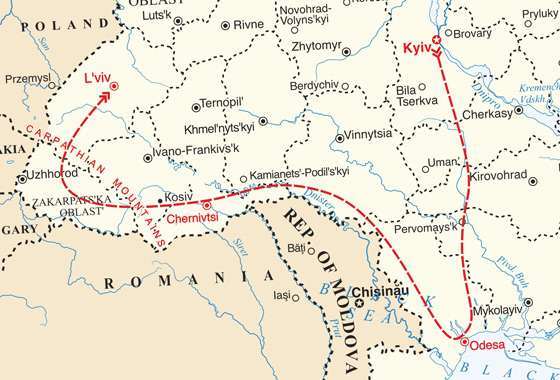 Highlights
Visit UNESCO World Heritage Sites, from the golden domes of Kyiv to Odesa and Chernivtsi. You'll find treasures along the way whether you're shopping at the Hutsul crafts bazaar or relaxing at Ukraine's best winery in Shabo near Odesa.
You'll experience cobblestone exclusive events, including a visit to the village of Tulova – where many immigrants to Canada came from, concerts, zabavas, and much more!