Itinerary
Day
1-2
You will get to take part in one of Europe's largest summer festivals as you visit multiple locations throughout Athens. After a fun-filled day and restful night, enjoy a Greek breakfast in the neighbourhood of the Gods before boarding the ferry!
Day
2-4
Your breath will be taken away by the beautiful island of Santorini full of white stone buildings and cobblestone walkways - all surrounded by the Mediterranean sea! Learn all about Greece through numerous planned cultural activities as well as anything else that may spark your interest during your free time.
Day
4-5
Deep sea diving, snorkelling, sailing - all at your fingertips while in Paros! When evening comes, your ears and eyes will be entertained while your tastebuds are sparked with a delicious seafood dinner.
Day
6-8
Next stop - Rome! You'll be visiting the famous Colosseum and adventuring through the city. Get a true feel of what life is like in Italy with a trip to Calcata, a village standing on Volcanic rock, a picnic in the park and more!
Day
9-10
When in Italy, you must eat pizza! Enjoy a culinary class, a disco where you can dance the night away Florence style, followed by a day visiting the Leaning Tower of Pisa and the land of Tuscany. You will bike through the enchanting hills and end off the second day with a private dinner at one of Tuscany's best wineries.
Day
11-12
Take a relaxing train ride to the romantic city of canals and masks before enjoying an evening of opera at one of Venice's largest theatres. You will get the chance to take a boat ride through famous buildings and bridges and see the Palazzo Ducale at St.Mark's Square. The sightseeing here will not disappoint!
Day
13-14
Stay at a seaside Villa to enjoy the Croatian sunsets of largest city on the Istrian Penninsula - Pula! Take a tour around the city to all its finest sights including the Golden Gate, the Gate of Hercules, the Venetian Fortress, or perhaps a performance at the famous Roman Amphitheatre.
Day
15-16
Make a quick stop in the coastal city of Split and take in some of the sights before hopping back on your private bus to Dubrovnik. For all of you Game of Thrones fans, Dubrovnik will be the highlight of your trip, as this is where the popular show is filmed. Experience this old city first hand!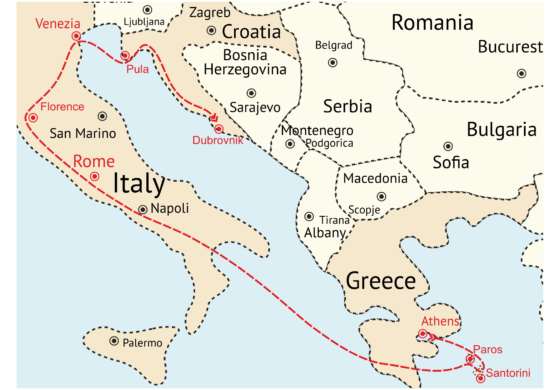 Highlights
Local guides will escort you door-to-door to all of the must-see sights to ensure you are fully immersed in the wonders of Greece, Italy, and Croatia.
You will be shown secret spots off the beaten trail, have your bellies filled with home-made delicacies, and be provided with cozy beds at the end of the night. Your only worries will be how to digest the new flavours fast enough, how to bring home the feel of the Mediterranean sea on your skin, and how to pack all your souvenirs into one piece of luggage.