Itinerary
Day
1-2
Welcome to stunning Lviv, centre of the Galicia region, and a city with a unique and rich history. Nowadays Lviv is considered to be the cultural centre of Ukraine! Get acquainted with the many fascinating stories and myths of Lviv.
Day
2-5
Explore the legendary Carpathian Mountains and the beautiful region of Hutsulshchyna. Get ready to be amazed as we go to Kosiv Crafts Market – a place where craftsmen from all over the area get together to sell all kinds of handmade items! Once you've stocked up on souvenirs, take part in an 'Easter Basket' tutorial – learn all the Easter holiday symbolism, traditions and superstitions. As the Easter celebrations begin, prepare your senses to be amazed as we celebrate together with locals. Sing and feel the spirit of Christ's Resurrection in a small wooden church in the mountains. Partake in ancient Ukrainian rituals and sample delicacies prepared specifically for the Easter festivities, and experience real Carpathian hospitality celebrating together with local people.
Day
6
Join locals in the authentic Ukrainian village of Tulova. Here the locals are keen to welcome you into their village, to show you around, to experience their culture and day to day life. Hear about their local Easter traditions, learn Easter songs and dances from the villagers, and party Tulova style – with homemade food (and vodka!) Continue to Chernivtsi in the evening.
Day
7-8
Welcome to Chernivtsi – the capital of Bukovyna! This multicultural city is considered one of Ukraine's most important educational and architectural sites. Its spectacular University is an ancient, magical collection of buildings, which will take you back in time as you step through its doors. Take a workshop in unique Bukovynian pysanky. Embark on a daytrip and discover stunning fortress of Kamianets Podislky - as fabulous chance to unveil a centuries old history and understood how rich and complicated our history is. We will finish our visit to Chernivtsi on a high note with a performance by the incredible Gerdan folk ensemble!
Day
9-11
Welcome to the world's only museum dedicated to the Pysanka, or Ukrainian Easter egg, located in the heart of the Pokuttia region. Historians of Kolomyia gathered a unique and rich collection of pysanky - about 12 000 Easter Eggs from different regions of Ukraine and from around the world. Celebrate the Pysanka Festival in the centre of Kolomyya.
Day
12-14
Returning to Lviv, you will have the chance to walk around the centuries-old streets of this impressive city! Admire the outdoor Pysanky exhibition on Cathedral Square, and of course the huge Easter Fair at the heart of the city center, where you'll have the opportunity to buy more pysanky! We'll be happy to help you with suggestions of things to do in and around Lviv, to get the most out of your time in this beautiful place.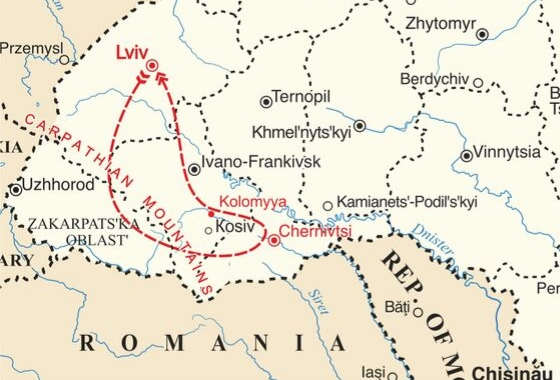 Highlights
- Take workshops in Bukovynian, Hutsul and Galician pysanky
- Visit and go souvenir shopping at the world Famous Kosiv Bazar!
- Learn about the traditions and symbols of an Easter basket in a workshop
- Meet a woodcarver's family and take a masterclass
- Celebrate a traditional Ukrainian Easter in a Carpathian village
- Sing and dance 'haivky' with locals in the village of Tulova
- Marvel at the stunning Chernivtsi University
- Visit the fortress of Kamianets Podislky
- Marvel at the performance of the Gerdan ensemble
- Visit the World's only Pysanka museum in Kolomyya
- Attend a Pysanka Festival!
- Visit the Easter Fair in Lviv
*This is a Specialty Tour. See Detailed Itinerary for full information on all inclusions.
Limited spaces! Contact us for availability.