Itinerary
Day
1-3
Start your journey arriving into one of the most ancient cities in Eastern Europe – Kyiv. The capital of Ukraine, and the former capital of the Kyivan Rus, this beautiful and historic city has played a key part in the past, present and future of this country... Explore its Golden Domed streets, visit open air museums, talk with the locals, and get a feel for this unique, cosmopolitan city at the heart of Ukraine.
Day
4-5
Chernivtsi – the Capital of Bukovyna – is a cosmopolitan and multicultural city considered one of Ukraine's most important educational and architectural sites. Its spectacular University is an ancient, magical collection of buildings, which will take you back in time as you step through its doors… Speaking of time travel, you'll get to see how local princes and rulers lived at the fortress of Kamianets Podilsky. Explore this medieval city, founded on an island, and look out over the river from its ancient tower walls and turrets.
Day
6-8
Visit a traditional village deep in the Carpathian Mountains, and experience a lifestyle that has remained the same for centuries. home to sweeping green forests, flowing rivers and breath-taking waterfalls –it's hard not to feel at-one with nature when you breathe in the fresh mountain air...This is the land of the Hutsuls, Boykos, and Lemkos – meet the local villagers, dance the Arkan and eat traditional food sat around one table. Experience how simple, open and hospitable these mountain people are.
Day
9-11
Lviv is an ancient, historic city in Western Ukraine that is quickly becoming one of the most popular tourist destinations in Ukraine, and for a good reason! With its quaint charm, cobblestone streets and classical architecture, you won't fail to be charmed by this city of love and UNESCO heritage site. famous for its beer, coffee and chocolate, but also for being a place where time stands still – Lviv truly is a city of a laid-back, café culture where you can pick a spot, relax, and watch the world go by…
Day
11-13
Optional Add-on
Extend your trip and experience the legendary International Ukrainian Dance and Culture Festival! Be part of this 4 day celebration of Ukrainian culture, and performances by groups from all over the world! Contact us to add this on to your trip!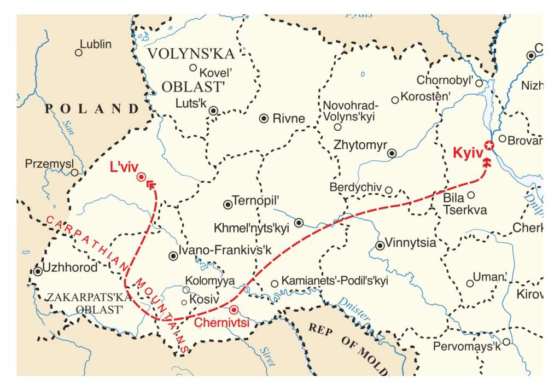 Highlights
Golden domes:Explore the beautiful capital of Ukraine.
Arts & Antiques:Shop on the famous Andriyivskiy Uzviz – home to Kyiv's artists and craftsmen.
Magical Buildings: Marvel at the stunning University of Chernivtsi, a UNESCO World Heritage Site.
Time Travel:Admire the Kamyanets-Podilskyi and Khotyn fortresses.
Folk songs: hear the wonderful Gerdan Ensemble perform in Chernivtsi.
Village visit: Meet locals in the authentic Ukrainian village of Tulova
Hutsul home: attend a Cobblestone Freeway exclusive – a traditional dinner in the home of a Hutsul Family in the village of Bukovets.
Traditional arts: learn how to make traditional "lizhnyky" - woolen blankets in the village of Yavoriv.
Easter Eggs: Visit the World's Only Pysanka/ Easter Egg Museum!
Cobblestone streets: Explore the quaint and beautiful city of Lviv
Dance festival: Be a part of the International Ukrainian Dance and Culture Festival opening ceremonies in Lviv.
OPTIONAL: Stay for the rest of the IUDCF and enjoy the sights of charming Lviv!
Cobblestone Exclusives:Attend private concerts, cultural events, and workshops exclusively for Cobblestone freeway Travellers
Download our detailed itinerary above, for more information!
*This is a Specialty Tour. See Detailed Itinerary for full information on all inclusions.