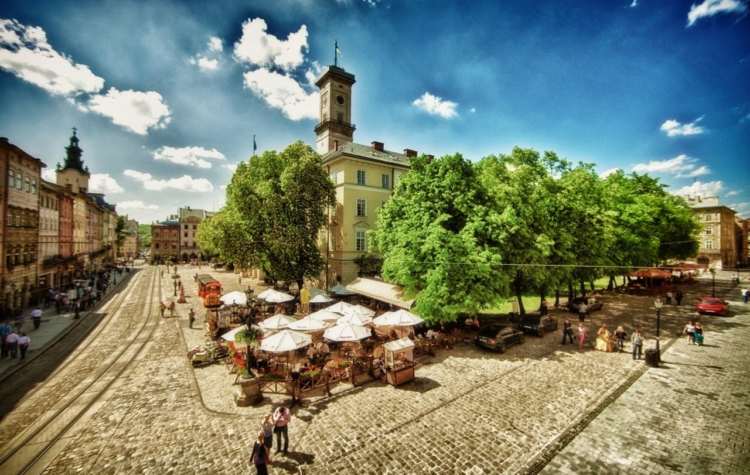 I guess in a way it started over 100 years ago when my ancestors came to Canada. They came with few possessions, a foreign language, and a dream for a better life. A life of freedom from oppression. They worked hard and broke land, they raised children and taught those children the customs and traditions they had known in the old country. Not because they were customs or traditions, but because that was what they knew. They cooked the foods they knew, told the stories and sang the songs they knew, and by this way they passed on what had been taught to them. Eventually their children grew and a couple generations later, I came to be. Each generation passed on many things, but with each generation a little more was lost. I've always been interested in my Ukrainian heritage because it was so prominent, not only in my family, especially around the holidays, but in my community it was all around me. And so, I've always had a desire to travel there, to see my roots, to set foot where those before me had called home.

So on April 7, 2017, when an opportunity arose, I grabbed on with both hands. My friend from high school and I had lunch. I told her I was thinking of taking a vacation but hadn't any idea where I would go. She said, we should go to the Ukraine like we've always talked about. I asked myself what I always do, 'why not?' and when I didn't have a good answer I agreed. A lengthy email thread with a company out of Edmonton that specialized in planning trips to Ukraine – Cobblestone (whom I highly, highly recommend) and a few minutes on Expedia and we were set to leave May 13 for a two and a half week trip through the Ukraine!
Our journey started on the cobblestone streets of Lviv. We were picked up by a local man who ran a tour company. There were harsh words for Putin on a bumper sticker on his van, but he had a bright smile and a friendly demeanor. He drove us through the streets, underneath a veil of brightly coloured umbrellas and told us how young this city was – only 750 years. The architecture was beautiful, the sun was shining and we were excited to see what our few days there had in store. Once we dropped off our luggage and exchanged our money, we had our first feed of varenyky and then had some free time to wander and take it all in.

I don't have enough space to tell you all the details that made me fall in love with this city, but I can tell you that anyone would fall in love with the architecture, the cathedrals, the vibrancy of the main square, and the coffee! And be fascinated by the history that we learned on our city tours. And the people. Given Ukraine's recent history, the patriotism that we witnessed was heart-warming and the pride the locals have in their city they come by quite honesty. It is dubbed the 'Paris of Ukraine' for good reason.
Over dinner, one of our guides said, "It is always fun to see Canadians first reaction to Ukraine. They come expecting to see the Ukraine of 100 years ago and are always impressed by how it is today." It is true. The stories that we know are 100 years old when our ancestors left. And in that time a lot has changed, but a lot has also stayed the same. More on that in the next chapter on my visit to some of the cities and villages in Western Ukraine!
written by – Tanya Kostichuk
published in the Theodore Free Press – June/July issues